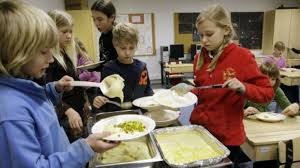 A small country like Finland can give us food for thought as the tiny Nordic country lays emphasis on early education.Before they learn time-tables ,they learn to be kids--learn to play with each other, learn compassion ,co-operation and become good human-beings. They believe in high class day center care,nursery and kindergarten to inculcate communication skills.The preparatory period lasts till age 7 after which a child is granted school admission. They have been ranked as No 1 in international education rankings. We need to take a leaf from their educational curriculum in order to make our country the No-1 education rank holder.
Let us list the points which we need to follow----
Why has it been ranked highest performing developed country in (PISA)
Competition isn't as important as co-operation---they have no private schools and every institution is funded through public dollars.Teachers make their own tests no standardized tests are there.Teachers are self- motivated.

Teaching is a respectable profession---- they aren't underpaid, they are valued.They should have a Master's degree and complete the equivalent of a residency program in US medical schools.They are well versed before they get inducted into teaching.

Finland listens to the research----the government makes education policy decisions based on effectiveness.

Finland is not afraid to experiment----the teachers are encouraged to create their own teaching styles.So they can think out of the box.

Playtime is important----teachers give 15 minutes of play for every 45 minutes of teaching.The Finnish believe in not depriving children of their childhood.They believe in holistic development not the rote method of study.

Kids have very little or no homework----Teachers, schools and parents are all kept in the loop and each knows the school work has been covered, so no extra work is given to students.Children spend time with family after school and learn about life and life skills.

Preschool is high quality and universal----parents in Finland are guaranteed everything.The preschools are good and the curricula are uniform.Parents need not worry as these preschools take care of everything.

There are no elite schools---charging a fee for compulsory education is illegal.The same level of education is provided to one and all.

Emphasis is on pedagogic research----it is development of psychology and motivation.

Importance of inner motivation----the students are encouraged to think and look for information themselves instead of being spoon-fed.Students set personal goals for themselves.

There are no strict standards in teaching methods-----hardly any exams as the Finnish do not believe in passing exams but learning facts.

In-school special education------If a child is unable to grasp as fast as his peers a special education teacher is assigned to help the child.No costly private tuitions are taken by the child.

Short school days----School timings are short and kids enjoy more time with family and learn different things.
School meals for all----the children eat in school,the food is healthy and warm.They are free for all.
So in short we need to work on these aspects to make our children mature and compassionate