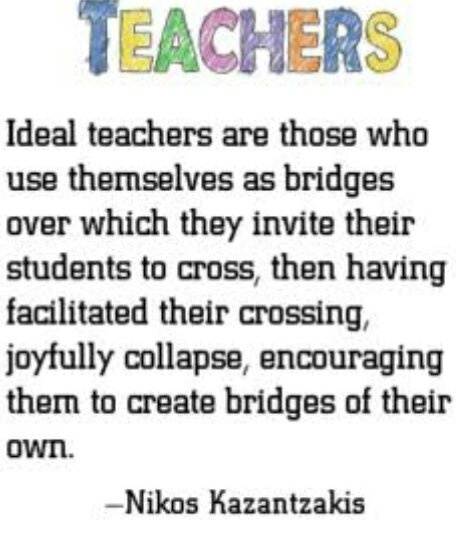 As it is said' A teacher takes a hand, opens a mind and touches a heart.'I was fortunate to get such a teacher whose advice helped me to chalk out my life path.
After class tenth boards we were asked to make give our choice for the streams we would opt.Most of my friends were coming from a lineage of medicos and wanted to pick up the Science stream to get a place in a prestigious medical college.I too was coming from the similar lineage but working on cadavers did not interest me.I had scored good marks in the Science subjects so I thought I would opt for Science and follow my friends.A few classmates had opted for Humanities as they they simply wanted to graduate and settle down in life. Though I opted for Science my heart wasn't into it but most of my teachers, friends and relatives felt I would do well in it.
An Anglo-Indian English teacher who had taught me in the junior classes called me for some work. We had all admired her as she had instilled the love for English in us.She had always encouraged him and had praised my writing prowess.She had in fact told me I was a wordsmith and I would do well in a creative field.
I was a bit surprised that a junior teacher wanted me for some work.Anyway I entered her room and stood waiting for her to talk to me as she was busy checking some copies. As I awaited I saw her room having lovely quotations and write-ups.I was impressed. I too wanted to be creative but how ? Suddenly she looked up and as if she read my mind and asked me how my studies were going. I replied with a positive affirmation but she felt something was amiss. She asked me what stream I had chosen and I told her. I had always been an exuberant person but she felt I looked out of spirits and wan. She asked me to sit and just told me two things- follow your heart and not others mind and if possible try to take the road less traveled.She read a lot and was an admirer of Robert Frost and quoted these lines from his poem--
The Road Not Taken
BY ROBERT FROST
Two roads diverged in a yellow wood,
And sorry I could not travel both
And be one traveler, long I stood
And looked down one as far as I could
To where it bent in the undergrowth;
Then took the other, as just as fair,
And having perhaps the better claim,
Because it was grassy and wanted wear;
Though as for that the passing there
Had worn them really about the same,
And both that morning equally lay
In leaves no step had trodden black.
Oh, I kept the first for another day!
Yet knowing how way leads on to way,
I doubted if I should ever come back.
I shall be telling this with a sigh
Somewhere ages and ages hence:
Two roads diverged in a wood, and I—
I took the one less traveled by,
And that has made all the difference.
I understood what she wanted to tell me , she knew my strengths and wanted me to make the right judgement. I was happy and at peace.I went and immediately changed my stream to Humanities. I knew I had taken the right decision and today I am a creative and contented writer.
This was the best thing a teacher could tell me and prevent me from taking a wrong decision.