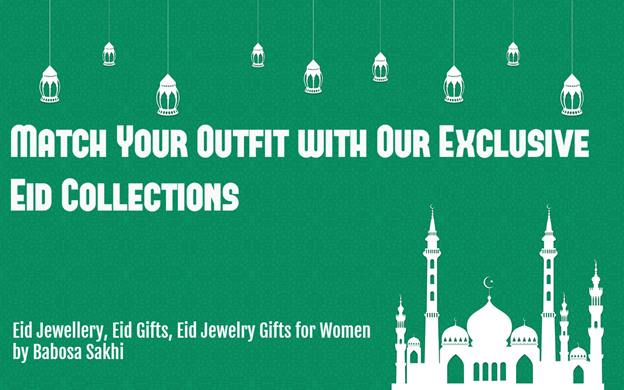 Ah, Eid. It's often described as the most wonderful festival of the year with lovely traditions to follow, a variety of dishes, exchange of gifts and more.
One of the best things about working in the jewelry business is the amazing trends and inspiring style statement we share. Beautiful, traditional, ethnic range of jewelry is our choice for this season! Add them to your Eid wishlist now!
With Eid just a few weeks away, plan your shopping list now!
Jewelry and apparel go hand in hand. The right choice of jewelry will elevate your costume and it will create a unique style quotient!
If you are looking for Eid gift ideas for your special someone, you could choose jewelry! They will remain treasured and valuable; without any doubt, they will be the best gift for EID.
When you're choosing your Eid collections and Jewelry, think about what you love to wear, what you're passionate about and think of something creative that can bring happiness and smile during the Eid season.
A Valuable Gift That Inspires a Reflection of Magical Feminism
The best Eid gifts for her are the ones that bring happiness! What could be more festive than our Eid collections? You'll find a countless beautiful variation of jewelry in our special Jewelry for Eid. Even on a budget, you can pick beautiful Muslim jewelry to make her dreams come true this season!
Jewelry for Eid, Styling Tips and Color Choices
Green is an Emotion
I'm not biased! Green for Eid has a lot of emotions behind. Wearing a green outfit with green jewelry is a meaningful effort this season. Whether it's a beaded necklace, chandler earrings, emerald pendant or a pair of green anklets – it's always a nice gesture to choose a green that adds value to the entire celebration.
Blue Is Precious
Blue is the symbol of spiritual life. It reflects the life in heaven and eternity. If you are looking for the best Eid gift ideas, any kind of jewelry in blue is precious! Incorporate a blue outfit and jewelry with shades of cobalt, navy, and aqua for a fantastic finish.
White Jewelry Forever
Whether you dress up in blue, black, green, red or yellow, Jewelry in white will capture the moment! Get the fresh, pure and positive look with our exclusive collection of Jewelry in white stones or pearls. It is one of the most popular Eid Jewelry collections this year. Complement the style with bracelets, tikkas and simple choker in white!
Experience the Beige
Beige adds some style and flexibility to the Women Eid gift collections. The color represents relaxation, calmness, and neutrality. Necklaces in beige and earrings with beige beads add cuteness and charm to your look.
Trends change rapidly. From Kundan to Bahubali to pearl and diamond, it keeps changing. A new piece of jewelry tries to fill their place in the market crazily! So, get ready to shop your beautiful Eid Jewelry this year because there's nothing as beautiful as jewelry to enhance the beauty of your outfit!