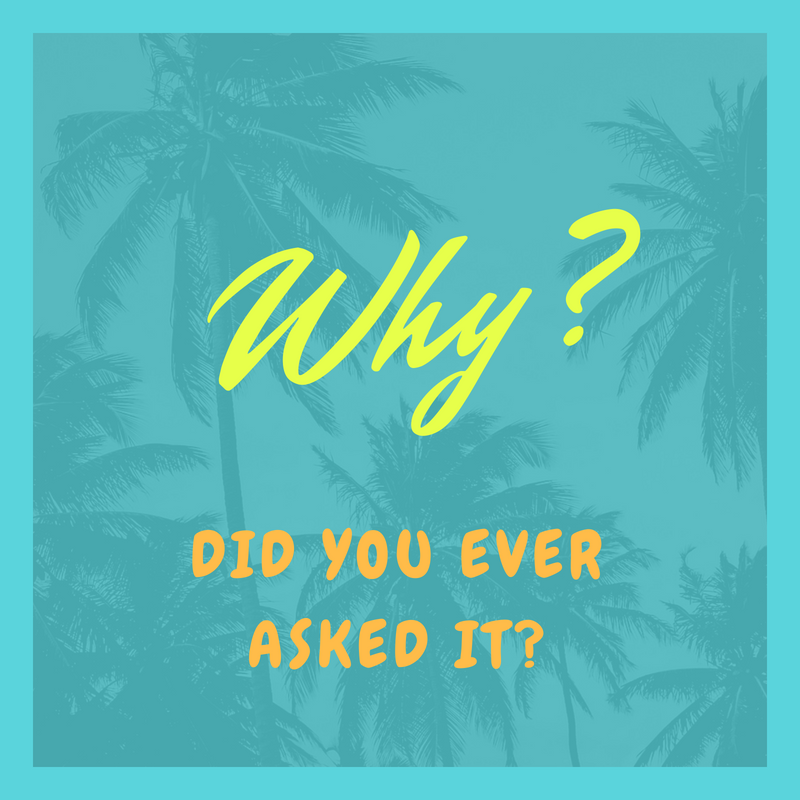 Why indeed?
It's a common question -Why? Kyun? Por Qué ?
A three letter word that can mean a lot when used correctly. We face rejections, happiness, success, and disappointments, but do we ever ask ourselves the question why. Think about it, when your boyfriend broke up with you, did you ask Why? When your boss refused you to be the head of some project, even though you had worked hard for it, did you went up to him and asked Why? Or even when the neighbourhood aunty upturned her nose in disgust after seeing you in shorts and coming home late at night, did you stopped her and asked, Why?
No, you didn't. You just turned away and bitched about them being rude, and that you don't care what they think.
But these are some negative scenarios let's find something positive.
When that guy you had been staring at for so many months and he never noticed you, suddenly comes up and asks you out to the coffee, did you ask yourself, Why? When the boss who had refused you the head position for the last project, praises you and makes you go on a foreign project, did you ask Why now?
No, you possibly didn't, because you were happy that these things happened, and most plausibly you wrote them off as they finally realized the truth that you are great.
But if you had waited for a moment and actually thought about Why did these things happen, you might have been surprised.
Its true, we read many quotes and motivation speeches asking us to stay hungry, to ask questions. But how many of us actually do that? and What questions should we ask? Only one –WHY?
To many, it may seem random and weird but it's not. I learned this trick in one of the turning moments of my life when I think I needed it very much, and that's why I want to share it with you all. Maybe reading this post can become an eye-opening and turning moment of someone's life.
We often go through life just like that, we live on the periphery and never delve deeper. When we face disappointments and hardships, we consider it a facet or a point in life that would pass. Or when we get some success, we never sit down to actually analyze and think about why it happened, we just consider it our good luck and About Damn time.
But it's not true, nothing happens according to destiny or the clocks of life. We are not mere puppets run by others, the decisions in our life, the various problems or success we face are the result of our own deeds. And we need to realize and analyze it, ask ourselves and others Why? Because when you do that, you analyze the situation you faced or are facing, you get to know the pros and the cons, the good and the bad.
The job interview for which you were rejected, if you had asked the interviewer Why? He might have gotten irritated at first or stumped, but it would have made him consider the pros and cons of hiring you, it would have made him analyze you and think, why indeed? The result might have been anything, he may have reanalyzed you and decided you are actually a good fit, or he may have given you the exact reasons of why you were rejected, which would have helped you in future.
So asking questions is important, but asking the right questions is more important. And the best question to ask is Why? Because when you ask this question, you can find the best of the worst situation and possibly a solution to it. For a happy situation, it would help you analyze – what you did right to achieve that success and it would act as a booster in future.
Lastly, this simple question is what would differentiate you from being a simple homo sapien to being a successful person.
And this is a proven fact. If you read any successful person's biography or listen to their interviews, they always say, that whenever they faced a failure or a rejection, they asked this question to themselves and to the others, and it helped them analyze and realize what was wrong and what they had to do to make it right. That's all to it.
Next time when you face a problem or success, just take a few minutes and ask yourself, Why? It can do wonders for you, and will not help you deal with depression and hopelessness but will lead you to more success and self-fulfilment.