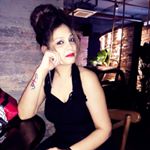 Please give details about your initial education and forming years of life.
A- Mount Carmel 2005 batch pass out, I was quite a rebellious teenager, I surely was interested in getting the best grades however was always looking for logic and reasoning in most of the things I came across.
·How did you get interested in literature? What inspired you to write?
A-I think I have felt the urge to put my words together into sentences when I realized that I had thoughts that were not common. I was always intrigued by the notion of writing and how uncommon thoughts when put together can touch millions of hearts and bring a change.
·What difficulties did you have to face with respect to literary work?
A-My first post was with Story mirror and My first content Closure got published. I guess I have been lucky to not see that phase of difficulty.
·What is your view about the present day literary work?
A-I feel literary work has evolved from where it was earlier when it comes to new inclination of thoughts breaking the stereotypical thought process and now we have more writers who think out of the box.
·Do you think that the emergence of digital and social media has given a new opportunity to creative writers?
A-I completely agree with that as I feel earlier it was difficult for writers to reach to their desired readers and vice versa, now we have numerous ways to select the kind of Genre we would like to read and follow the writer to keep ourselves updated with their new work
·Please tell us something about your literary work.
A-I write to be read and through my writing I want to convey the emotions which are somewhere lost. It is about a journey that takes you back to past, gives you a glimpse of future and all in between. I wish to change some lives which are trapped within themselves to give them a sense of true self and if even one bit is possible by my writing and it reaches them I would be the happiest.
·What was your first literary work and how was it published?
A-My first work was CLOSURE and it was published on StoryMirror.
·How many ways literature can contribute to society in future?
A-Literature plays a vital role in shaping the society and as rightly coined by Edward Bulwer –Lytton " Pen is mightier than sword". I feel we can eradicate major differences today in society with some powerful and meaningful writing.
·Where do you see yourself after 5 years in the literary world?
A-I see myself at a position where my writing would have made a difference in the way we deal with situations be it with others or with own self.
·What ways would you suggest to build a community for poets?
A-If I had to suggest it would be a "Writers Fest" annually, where all the writers globally could come together brainstorm ideas, thoughts and innovative ways to get the literary work to new level. This would not only bring innovation to the literary world but also connect writers globally.
·What message would you like to give to aspiring new writers?
A-Keep writing, irrespective of the rhyme, flow and trust me it would fit. All you need is to pen down your thoughts that you actually feel from within and there are no conflicts about them within yourself.
·How was your experience of writing on StoryMirror?
A-My experience was phenomenal, story mirror gave me an opportunity to express my thoughts, All I kept on doing was writing more and in no time I could see all of my contents that I submitted getting published with ease and great support.
·Would you like to say something about StoryMirror?
A-StoryMirror gave me transparency about how things would work and gave me a clear picture about my literary future with them. I feel transparency is the key to build strong relationships and I feel my work is in right hands.
You can read my work on this link https://storymirror.com/profile/a5jjvmkb/ashlesha-sadras/poems