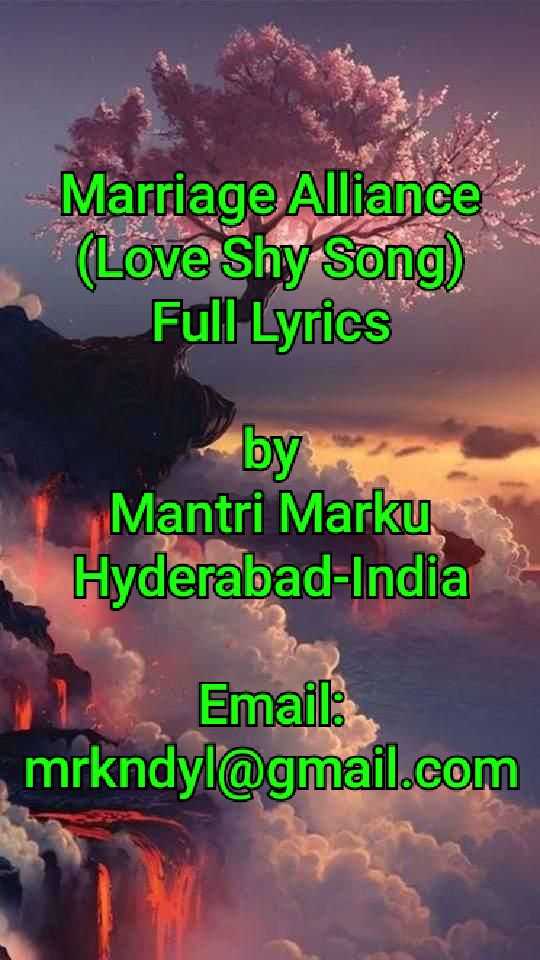 MANTRI PRAGADA MARKANDEYULU
[B Com, DBM, PGDCA, DCCP]
PLOT NO. 37, H. No. 1-6-53/1, ECIL Post, Kapra,
Hyderabad-500062
Telangana State – India
twitter.com/@mrkndyl68
Email: mrkndyl@gmail.com
+91-9951038802 / +91-8186945103
MARRIAGE ALLIANCE
(Copy Right Protected Song Lyrics)
(Love Shy Song)

I am in love with a girl
To my conscious, the girl not loved me
I am worried to speak to her
She never cares me ǁ

I thought, I want to speak to her
She never gives a chance to speak
I am wasting time and money
Still, it's a long shot to meet and speak ǁ

I am sensitive in mind
I am afraid to speak in public
I feel I am nervous
It looks guilty to speak to her ǁ

I thought all the ways and means
I followed a strategy not to speak to her
I kept silent for few months
Slowly I was forgetting her ǁ

Her details are in Matrimony list
I too registered in the same Matrimony list
Her elders contacted me
I gave a green signal for an alliance ǁ

A day came closer to marriage alliance
It was a day I went to her home
She was called to speak to me
She never spoke to me, as I expected ǁ

I thought she rejected me
I was hoping for a success alliance
No reply came from her side
I doubted about this marriage alliance ǁ

A couple of weeks passed
A message came from her
She was ready for an alliance with me
I accepted for this good proposal ǁ


------------------------
MARRIAGE AND DIVORCE
In India, marriages and performing marriages are very old traditions.Marriages are performed in great style.During the marriage functions, huge amounts are spent, for various purposes. Marriage is a onetime function in one's life. Everybody hopes and expects that the bride and bridegroom should lead a happy marriage life. After marriage, both bride and bridegroom should understand each other in every aspect, including financial, domestic, relationships and also professional career aspects. It is, of course, to have a good insight on these aspects. In earlier years, say during 1950's to 2000's, many marriages that took place and were successfully established their family in spite of many difficulties including financial aspects. The problems were not there with the husband and wife till 2000 year.
The problems slowly started emanating since the introduction of computerization.Everybody became qualified, everybody became software engineers and everybody became earning members.Moreover, huge salaries were being received especially by the ITeans in the IT sector. Slowly, likes and dislikes started amongst many newlywed couple.One does not know why? There was lot of resentments with the newly married people. The reasons are self-explanatory and may be plenty. During the recent past, mostly in IT field who were working on software side and other related fields, love affairs became common. Many marriages took place. Simultaneously, there were many divorce cases. The reasons for divorce are not well known. Some people work at America, some people work at UK, some at Singapore, Australia, and Germany etc.
Generally software people, who ones leave India for careers sake, never return to India. People get settled at somewhere in some country. They even become green card holders. These people never bothered to get married up to the age of 35-40 years. Many of the divorce cases are pending in various courts in India. These cases go on dragging. Even parents are never bothered about their children's marriage performance.
One B Tech Itean marriage took place in India four years back with one B Tech girl.Both went to America. What transpired between them was not known.The girl opted for divorce. The divorce came after 5 years. The bridegroom had paid compensation around Rs 10.00 lakhs to the bride. There were several divorce cases pending in the courts for want of divorce. It looks that divorce has become common and regular feature. On many petty, silly and waste matters, young couples are opting for divorce.Most of the parents are the worried lot.One does not know why things are leading to divorce. It looks; we have been observing so many of misunderstandings with the new couples.In some cases, in spite of counseling, people are not adhering and going in for divorce cases. It looks, there is somewhere, some problem exist.
In another known divorce case, one B Tech boy, software engineer married to one MCA girl. Within three months, the girl opted for divorce from the boy. One does not know any reason for this. The bride's parents looks to have played a major role in this. This incident happened one year ago. Both bride and bridegroom are presently living separately. The bride is yet to file a divorce case in the court of law. It takes another 3-4 years easily for getting divorce in the court of law.
Before the Marriage engagement function, Both the Bridegroom and the Bride have to register their names with the competent authority of that jurisdiction or with Sub-Registrar of Marriages or any Authorized Nodal Agency or with any Government nominated Nodal Agencies either directly or through eSeva or Mee Seva Center's, and a Certificate to the effect that so and so would like to get Marriage engagement on such a particular day, month and year and following by Marriage on a particular day, month and year. This is only an intimation to the Government through proper channels, so that, the Government would be kept informed about the Marriage engagement and Marriage Function of particular Bridegroom and Bride. So also, local Station House Officer [Police Station] also to be kept informed about the Marriage engagement and Marriage Function with dates fixed for these functions. This will definitely, avoid future problems, troubles and other unforeseen marriage litigations and post-marriage complications, if any, arising out of misunderstandings in both the family groups. This system will work out well, and could possibly avoid post-marriage mis-understandings which may lead to divorce.
Presently, after Marriage is over, the new couple are going in for Marriage Certificates and approaching the Sub-Registrar's Office or any authorized e-Seva or Mee Seva Centre's for issue of Marriage Certificate. These are all called post-de-facto Certificates.
In advance, obtaining the Marriage Engagement Certificate and followed by Marriage Certificate, could reduce divorce cases.
Parent's involvement with the young couples looks to be the primary aspect.Parents influence is the cause for many broken marriages. One do not know why parents to interfere in the newlywed couple's life. Always new couples should be asked to live separately.
Brides parents in India are afraid to perform marriage to bridegrooms working at foreign countries, fearing break-in marriage may take place. Moreover, there are many marriage sites existing in the websites. It has become a very common feature to search for brides and bridegrooms. All personal profiles look to be good and attractive.
Now-a-days, every bride needs a software engineer bridegroom. The main criteria are the salary package of the bridegroom. How much bridegroom is earning. Whether the bridegroom is having any property, lands, own building or flat including a car. This is the criteria for any bride. Moreover, brides are not getting married up to the age of 30-35 years. These brides want to earn as much as possible before marriage takes place. This is the state of affair. When compared to present trend of marriages, alliances in olden day's marriage, alliances took place in a very simple manner. Though in olden days, there was no much of money circulation, all the marriages were performed well and almost all the marriages got well established. The problem has cropped-up, when the IT field is in full swing. It looks, IT field only the root cause for divorce cases and break-in-marriages. One will pray The God that no more divorce cases are foreseen in the near future.
====================