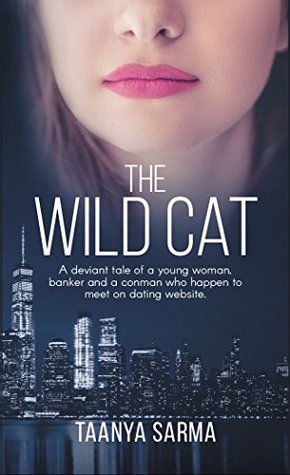 Book Title: The Wild Cat
Author: Taanya Sarma
Format: Paper Back
Total Number of Pages: 328
Language: English
Publisher: Invincible Publishers
Publishing Date: 21 December 2017
ISBN-10: 9387328139
ISBN-13: 978-9387328136
Based on true events, this erotic thriller novel tells the tale of a young, naive woman named Tanya who enters the online dating and chat world. Her first foray into this digital realm initially proves to be bland and disappointing; however, sex, suspense, power struggles and attempted murder soon unfold. These unwelcome adventures interfere with her business and her sanity as she aspires to live up to her deceased parent's standards.
A conman named Sam ensnares Aaron, a handsome investment banker, into his ploy and uses him as a pawn to lure women into doing things they normally wouldn't do. Sam then exposes their personal information as well as their images, sometimes in the act of cyber sex, and posts them on a very successful porn website that he owns. Tanya's encounter with these two men evolves into a long, winding road, with each turn bringing irreparable changes in her life.
Enraged by the deceit and the unconscionable behavior of these men, Tanya turns whistleblower and vows to assist the FBI in shutting down the dating app and porn site – and she won't stop until the perverted perpetrators are behind bars. She never relents, but ultimately laments, "I never thought that I would have to give up my life to remain alive."
Reviews
A very interesting book, especially for young girls to understand the danger that exists in this society with online predators ~ Alma Guzman, Executive Producer Hollywood.
Sex, suspense, power, struggle, murder attempt and well developed characters. This book has all the masala to be the next blockbuster Bollywood flick. A must read for sure. ~ RJ Khurki, Zabardast Hit 95 FM
Truth is indeed stranger than fiction. This gripping story based on true events will keep you hooked till the very last page. ~ Antil, Scoopwhoop
MY TAKE
Starting from the book cover the first impression is the best impression the foremost thing which I liked in the book is the beautiful cover and its little unusual title "The Wild Cat" it indeed developed the curiosity within me to know what author meant by it. The lower half of a girl's face and below it is the night view of a city with buildings in the middle of the cover title with sub title. The Wild Cat A deviant tale of a young woman, a banker and a conman who happen to meet on dating website. The Cover is beautiful and attractive. Title is also perfect for the plot.
The story revolves around the line of protagonist Tanya aka Iron Angel, Dorothy, Adam, Mr. U W, Aaron aka Phantom or Alpha, Mrs. Martha, Sarah, Monica , Sam Baker aka call as Nick Baker or Cobra, Newguyintown,Notorious, Aunt Iris, Rookie, Venom, Rebel Queen, Rex, Mr. & Mrs. Baker, Stephanie Owens, Schmidt, Jeff Simpson, Dali, Frida.
This is the story of female protagonist Tanya an art gallery owner inherited from her father. She lost her mother in her early age and her father had brought her up but later her father passed away in an accident. She was a alone and only have the support of her best friend Dorothy. Dorothy is dating online through an app which matches with a person of similar interest and lets them talk in a group or one -one.
Tanya also downloads the app iVoice once she learns that she has been using it to date this person who is the owner of a sexy voice according to her. iVoice is a dating app but the twist is that it's not like any other dating app. It's a dating app based on voices of different people. One can only connect with another person she is interested in by hearing his voice. No real names, no identities. Just voice. The application has a option to lock in the phone number and also has a voice changer option if any user feels not to reveal their own voice. Tanya, aka Iron Angel on iVoice comes across another user called Adam who invites her to a private chat. Adam apparently is married and is a father to three kids. He shows signs of perversion and voyeurism and have cybered (cyber sex) quite a few times but his wife doesn't mind even when she knows about his addiction. I don't know why. Even his therapist knows about it but takes no step to stop him from his adventures. Tanya and Adam end up talking about the colours of underwear they wear, whether they wash hands after peeing, whether they sleep in PJs or sleep naked. I mean, girl you are talking to a virtual stranger and you haven't even seen his face and you are already talking about penises, panties and thongs!! Like, seriously. I was exasperated at her common sense. He could have turned out to be an old pimp who doesn't think twice before killing innocent girls. Anyways, coming to the second user Phantom; he is the lead male protagonist in this book. Aaron aka Phantom turns out to be an investment banker and is pretty civil when they first engage in conversation. He isn't a creep like the two other users she had interacted previously. They almost talk everyday. As days pass, Tanya becomes more addicted to this app and starts to feel "soft" for Aaron. It's trap. There's always some people lurking in the background to pounce on when they are presented with opportunities. There's one such person in this iVoice app too. He gains a large sum of money by selling of phone numbers and private images of the girls who uses this app. When Tanya comes to know about this and learns that Aaron is also linked with this whole ploy, she plots a revenge against them. The rest of the story follows Tanya in her revenge and whether she finds success in her plan. This book ends with a cliffhanger mode. The rest of the story will be in next trilogy set of the book.
Language is simple crisp and lucid and has the ability to bring live the events narrated in the book. The characters are well developed and one can easily relate to their actions, reactions, mental agony, outbursts, etc. The only character that left me a bit confused was that of Tanya. The best part is that even the supporting characters are well- developed and merge smoothly into the story. You can easily relate to most of their actions, reactions and inner turmoil. However I would have loved to get to know what happen after BANG. BANG. who had shoot for that i have to wait for next book. While the first half is erotic thriller with cyber crime, the second half which is revenge. Narration is done well. The author's strongest point is plot with unique theme and warn the women of online world. One of the most important things that I noticed is how with few words, the author could not only just portrayed the hazards of online world, the pain, joy and sorrows of the characters but she even manages to bring that out from the readers. Most victims of these crimes were teenage girls and women. There was a nefarious attempt to trap young girls to indulge in wrongdoing. The increase in number of mobile phones had also led to more number of cyber crimes. Crimes were also reported by misusing social networking websites on the internet. The writer's words has the capacity to hold the reader till the last page. The book has been written well in accordance to real-life examples with realistic point of view.
This is the debut novel of author but we don't seriously feel as if we are reading a book written by a debut author. Overall a fantastic fantasy packed with action and tinged with suspicion and suspense. I personally would like recommend this book to every women out there and to all the book worms it's a must read.
Overall Ratings 4/5 Stars
About the Author
Taanya Sarma is an author, poet and an entrepreneur. An ambivert true to form, the depth and duality of Taanya's personality are evident throughout her writing.
The genesis of The Wildcat trilogy stems from her desire to warn naive young women about the pitfalls of the online dating world.
Taanya's goal is to see her series of novels published and available in multiple languages as far reaching as countries like India, China, UK, NZ, SA, Australia – and, of course, in her home country the United States.
When she's not writing, Taanya is most likely thinking about writing – or spending time with her adopted dog, playing the guitar and piano, sketching, biking, snorkeling or participating in some extreme sports like parasailing, skydiving, or bungee jumping.
For a more in-depth look into the life and creative mind of Taanya Sarma, follow her at @taanya.sarma or check out her website at http://www.taanyasarma.com