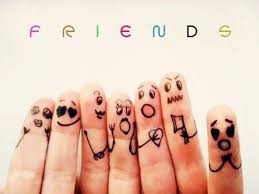 REDEFINING FRIENDS IN THE FORM OF APPS
"One of the most beautiful qualities of friendship is to understand and to be understood."
Friends for life, friendship forever, a friend in need is a friend in need.....And many other proverbs and sayings define friendship. But in real, everyone of us have a very unique way of defining our friend. Now getting into a new platform, let us define each friend like an app.
1. THE ZOMATO FRIEND:
This friend knows all details about food. Starting from the small roadside shop to the expensive star hotels, they have every information at their fingertip. They have a very good taste when it comes for family outing and romantic dates. But when they take their friends outside for a treat on their behalf, they find the cheapest restaurants possible.(!!)
"A foodie friend in need is a friend indeed."
2. THE GOOGLE FRIEND:
This kind of friends store information about everything in their mind. They even keep bookmarks on important pages. The biggest beauty of this friend is, one can even filter their results and set preferences for next search. Really intelligent these people are!!
"Not every time knowledge is power, sometimes, knowledge is friend too."
3. THE OLA FRIEND:
Some friends don't prefer walking long distances. But this kind of friends, I guess, have a tie up with ola. Even for walking few centimeters, they need ola cab (with ac and music facility). And they are brave enough to bear those cheap looks from other friends for that few centimeters travel through cab.
"The friend that never walks".
4. THE MUSICAL.LY FRIEND:
A few friends aspire to become great actors. They strive hard and build contacts with industry people. But this musical.ly friends opt for short routes. They just hope, someday someone will get madly attracted by their dubs and offer them a meaty role. But still don't get proper lip syncs and dialogue delivery.
"Actually.... (Sorry, no comments)."
5. THE SMULE FRIEND:
This friend sings really well, but at times, puts camera on selfie mode and does something. It then goes viral on "smule comedies" page and increases this friend's brand value. They even become celebrities of some kind.
"Seriously funny you know".
6. THE SARAHAH FRIEND:
This friend boldly spreads information about others. And when the news travels from person to person, one fine day it reaches the actual receiver. However, the sender becomes anonymous here. Who goes in voyage for finding such persons? "Having a big nose makes you interfere into other's lives. So better....".
7. THE MSOFFICE PACKAGE FRIEND:
This friend helps the entire class in making presentations, creating documents and storing data. If sponsored with hot samosas and coffee, this friend offers elite range of services too. Eg- power point presentation within an hour, typing the entire report in own words and saving us from plagiarism checks etc.
"Offering services in a wide range"
8. THE SHAREIT FRIEND:
This friend owns almost every stationery item. Extra pens, pencils, books and everything else. Perks of having this friend includes, (but not limited to) trying varieties of new items everyday and the authorized stealing. (I asked her permission to take the pen, you know!?).
"You name it, they have it."
9.THE SNAPCHAT FRIEND:
This friend often tries new poses and gives different animal sounds when people are busily indulged in a conversation. Someone should have gone deep inside their hearts and made them believe that, "the way they pout is cute". Unnecessary animalistic sounds and irritating behavior can be commonly found among these beautiful piglets.( Pout is cute naah, so they should beautiful obviously.)
"To err is human, but here, the error is human. Animals turned humans."
9. THE YOUCAM PERFECT FRIEND:
These people roam around with their lipsticks and touch up kit everywhere. The authenticity of fairness creams can be clearly seen in their faces. Radiant in morning, very very radiant in afternoon. (Including the noon's touch up). And their standard dialogue is, "You know what, I don't use creams and cosmetics. Natural look is love".
"Never dare to touch them, unless you don't care about hands getting greasy....sorry, creamy."
10. THE SCREENSHOT FRIEND:
This special friend narrates the actual incident without mixing any imagination. A casual chat or a mini war, this friend tells the truth and is labelled as the trust worthy person. Remember those evergreen childhood days, when class teacher would call this 'screenshot friend' to explain the root cause of the fight.
"Truth is the air I breathe in".
11. THE MYNTRA FRIEND:
The friend who has all latest accessories and dresses. This friend can be called as the biggest fashion destination too. "No exchange, no sharing" is the policy here. "My accessories, my property. Stay away."
12. THE CLEAN MASTER FRIEND:
Be it your home or hostel or even any random place, this friend always takes lessons on keeping the place clean. This friend is highly helpful when your parents or relatives pay a sudden visit to your hostel room. This friend could be a part of the next clean India campaign if proper efforts are taken.
"Cleans, saves space, protects from parents."
13. THE SUBWAY SURFERS FRIEND:
The friend that always runs behind money. This friend is always in search of the magnet that would attract all the gold coins. As a part of the game, this friend even steals money from roadside. People are waiting for the day, this friend will get caught by police.
"Run, run, collect coins."
14. THE YOUR QUOTE FRIEND:
A kind of it's own friend. This friend creates quotes, poems, uploads it on social media and garners significant amount of followers. They have contracts with photographers too for getting good background for their poems. They go to dreamland all of a sudden and refuse to return from there.
"Stay away, one day or the other you will be murdered in their poem."
15. THE XXXX MATRIMONY FRIEND:
Fondly called by various names, this friend does the work of bringing people closer. Being a mutual friend for both the girl and guy, this friend sows the seeds of love in their hearts. Even after getting beats and scolding from surroundings, this matrimony always continues it's work.
"Connecting people."
16. THE TALKING TOM FRIEND:
This friend really talks too much. They try to impress people through their funny ascent, which unfortunately goes right and they start fan clubs for this friend. No matter how worse the situation is, this friend talks, talks and talks.
"Words are worthy, so am I".
17. THE DUAL WHATSAPP FRIEND:
The friend who has the capability of maintaining a minimum of two girl friends. The best part here is these friends never get caught. "Modulation of text, use of emoticons, images, even changing handwriting is essential here"- expert in this field says. Yet, their facebook status remains single!!
"See, the basic algorithm is…(no, I am pure single).
18.THE TRAFFIC RIDER FRIEND:
A few people have the special ability to make accidents in empty roads. And this category of friends possess that skill. Before getting into their vehicle, you would have heard them praising themselves regarding their driving talent. Then occurs the mishap. Now we would have found the reason why they failed their license test thrice.
"Brakes failed, the mistake wasn't on my part".
No matter wherever we go, how far we are, we can never forget certain special friends in our life. In due course of time, life changes. Profession changes and we move to various places. Sometimes we may even lose contact, yet, some special friends and their habits will always stay in our life, no matter what. Dedicated to all friends….
#smblogcontest