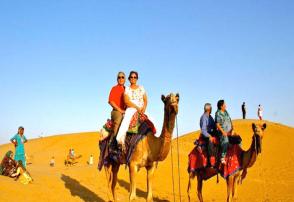 Pushkar is located amidst of Aravalli range. It is one of the five sacred dhams for devout hindus. That's why it is called "tirtha-raj", which literally means the king of pilgrim sites. Pushkar is also famous for the Pushkar Lake, which has 52 ghats. Pilgrims from across the country visit the lake to take a dip in its holy water. If you are planning to visit the Pushkar fair, then you have to plan in the month of kartik purnima (according to hindu calendar). There are many marvelous spots in pushkar which give you pleasant feeling. Here there is a list of some coolest things to do in Pushkar with the Help of Pushkar Tour Package
1)Take the Camel Safari:-
The dunes around Pushkar can be best explored on a camel. Riding through the desert atop of a camel is an amazing experience. It's a bumpy but a rthymic ride through the quiet desert, the loudest sound being the swish of camel feet on the sand. It will give you a glimpse of the rustic village in the desert and the life in desert. You can hire camels from the fairground or can ask your hotel to arrange for one.
2) Attend the Evening Aarti at Varah Ghat:-
Evening Aarti is the best experience, and you should not miss it. Thousands of people gather at the ghats. As the chants begin the atmosphere gets filled with the fragrance of incense sticks and roses. The sound of ringing bells comes in chorus from many temples surrounding the lake. The whole ambience feels divine and transports you to a different world altogether. While the evening sky fills with the gold of the setting sun, the lake looks pretty with numerous floating diyas.
3)Take the Hot air balloon ride:-
This was one of the scintillating experiences when you ride on the balloon. You can enjoy the whole fair from the sky without any crowd. This gives you a wonderful scene of Pushkar lake. You are recommended to do advance booking at the time of fair.
4) Take the Jeep safari:-
Travellers with a penchant for adventure must try jeep safaris. Jeep safaritakes you through the rough paths to explore offbeat destinations of Rajasthan. Not only will you drive through barren desert landscape but also you will also get an opportunity to explore the hidden charisma of some of India's most remote and colourful villages. For more info visit Rajasthan Tour Packages