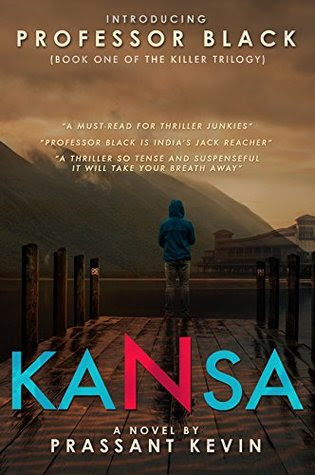 The review:
Kansa by Prassant Kevin
The first thing that struck me about the book was the size of the text; its considerably large so your eyes don't have to suffer making out small text as is the case in some other books.
The title, 'Kansa' is intriguing, to say the least. The mythological connection just fits right with the acts of the antagonist and gives it a good Indian touch.
The starting of the book was really promising though nearing the middle, it started becoming rushed and kind of choppy, as if the author wanted to quickly take us to the 'main area of action'.
The characters seemed disconnected. The main appeal for me in a book is to be able to connect with them, empathize with them, see the world they're living in from their own eyes; that seemed to be missing in this work. ACP Saargi's character was good though, I liked her no bullshit, devoted attitude towards the well being of the citizens.
The comparison between Professor Black and Jack Reacher seemed a bit far-fetched. Black's characterization was okay but on moments it felt like his 'suffering' was being so emphasized it almost came off as 'oh I have suffered so much, oh give me attention, pity me but don't pity me' type of vibe.
The romance aspect, to be honest, seemed like it was deliberately pushed in just for the sake of it. It would've been better if it just wasn't there (between Saargi and Black I mean).
The ending though was so so good. A totally unexpected twist and climax. It completely threw me off my tangent!
If you want a light, breezy read with ample amounts of theorizing and twists, you can give it a try.

With regards,
Tripti Arora