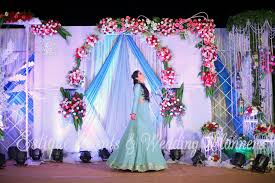 Weddings in India have undergone a sea change from intimate to lavish affairs,roses to orchids, chai to champagne,homes to hotels,rides to cruises and their large hearted'Dil' to a big fat' Bill'.There is exorbitant expenditure on venue,clothes,jewellery and cuisine.There is a whole lot of bling attached to marriages in India.
Wedding planning involves a splurge in fashion and rituals.The craze for destination weddings has given a high to the tourism industry as people arrange the marriages in good locales and have an extended holiday which is otherwise not possible.People are spending from 2 million to 20 million for a five day extravaganza.Bollywood and International stars are invited to grace some weddings where the budget crosses and people spend more than 20 million rupees.Indian weddings by far are the most lavish and fun filled compared to other countries.These weddings are the source of good moolah for caterers,florists,D.Js,fashion designers,bootleggers,beauticians, decorators,mehndiwaalis etc.The country has witnessed a sudden rise in Bridal Fashion Weeks and Couture Weeks.Fashion weeks are platforms for known and new designers to make their presence .People have awakened to the term Haute Couture and during weddings people are spending exorbitantly on latest fashions .Clothes are made in different materials with heavy embellishments.
Ethnic fen wear has made its foray into the market and even men are not left behind while purchasing wedding clothes.Males are not averse to trying different fashions.So it has become a booming industry
The wedding Planner is in charge of the whole wedding from decor to the vidaii,so everyone can relax and the splurge has no limits.With theme based decor,several kinds of cuisines,imported champagne and drinks,exotic flowers imported from foreign shores,the invitation cards are especially designed,the trousseau packing is done in all splendour.Everything has taste and grandeur.The wedding and pre-wedding videography is an elaborate affair.
Every small ritual is done with pomp and show and the budget can exceed millions.Due to crass competitiveness among people they try to outdo the other while planning a wedding.Some weddings are theme based on the latest bollywood releases.No one can believe that India is poverty- stricken when one sees the glitz and glamour of Indian weddings.