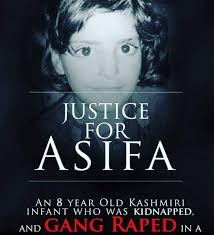 #ASIFA was young 8 years native girl raped and killed in Jammu khathava district by people belongs to dogara community (another minor community) over beating case early this year.
She was abducted by people on 10 January and her body found around 17 January in Forest in devasted condition. She belongs to bakarwala nomadic community. Her captive has been get JK police protection as one of the rapist was JK police member. Her case been systematically delayed and justice been denied. JK police SP started to framing Hindu Ekta much (a Kashmiri pundit organization which protest against KPs Exodus) because he is known for his pro-Pakistan slangs in JK.
JKBC (Jammu Kashmir Bar console) and HEM (Hindu ekata munch) protest over illegal framing of people rather than real culprits of dogara community and demand (read again) for CBI probe for this case. As Soon as protest move, Indian Media (which usually keep their silence on Assam rape case and other cases which has a less Political orientation) surge the news by framing that protest as Hindu protest for saving culprits. The #Sickular media highlighted the details that "Rape done in Temple " (like nothing ever happened ever other than temple ). In same case Unnnav, 16 years girl been rape and her father beats up by BJP MLA brother to death. This case was different, few dickhead members of BJO might have changed #JaiSreeRam during the protest in Unnah (not Kathava).
But Indian Media slurring this news has started to report these two case in same articles which confused people that #JaiShreeRam was told by JKBC and HinduEktaMunch.
BJP MLA captures by CBI early this morning and Asifa culprit is capture by JK police later on.
POLITICAL OPPORTUNISM
Party like Congress and Opposition, irrespective of condemning such rape cases started to use as Political opportunism (Trust me , if this would be Congress govt at center, BJP might be doing open pant protest than Congress). Rahul Gandhi and Man Mohan Singh who had been silent during Nirbhaya Rape Case. Started to act sensitive (after Dalit protest was over) about these rape cases. It's good, I personally appreciate his gesture but My problem starts with that when addressing this rape culture of India they started to shoot govt by using rape case.
Rahul Gandhi and BJP must understand that Rape, Murders crimes are not blaming and accusing of each other or setting benchmarks for each other rule failure. These are the serious problem of our society.
The second odd thing which I found that #SelectiveOutrage. This is the most serious thing which is pumping right wings into power. Our Intellectual class and celebrity class live in different India. There selective outrage over only minorities Atrocities been noticed by Millions of people (especially Hindus ) who think that these gatekeepers of democracy is failed to understand their problems.
From Kashmiri pundits, 1984 Sikhs riots, Assam rape case to Bengal riots, RSS people killing in Kerala… no justice has been served to them. They have been waiting that someone should also cry for that. But Intellectual class (might be funded by US think tank) maintaining their silence over Hindu Atrocities of the subcontinent.
Many of us even don't know that Mina (8 years Dalit Pakistani Hindu ) been gang rape and killed in similar fashion in Pakistan on March 21. But no Dalit and intellectual class ready to see Hindu atrocities. This making sure that Hindus been grouped like other community and rage case been raised because social justice hasn't served equally to them.
What about Assam rape case Victim- Why media is silence on Assam Rape case?
POINT TO PONDER
1. Political opportunism must be ended and "what about this " kind of attitude must end. All Political parties and all intellectual must stand together for #AsifaBakkaerwal and #Mina. If you left #MinaBody I don't think so ever #AsifaSoul get justice.
2. Social justice must be given to all people irrespective of their majority and minorities population. Till the time this social justice would be imbalance and intellectual wouldn't cry for Hindus also. I don't think so this kind of crime will be tackled by fist iron.
3. I would like to say all my communal and secular friends … Stop using fucking Temple and God into such rape case. You are creating Hinduphobia which is equal to Islamophobia. People killed in real life because of this kind of phobias. Might be asifa also the victim of such phobia cared by Ultra left.
8 Years Girl has been Raped in Pakistan
PS : I think today not only Hindus but Muslims, Sikhs, Christen, Parsis should hang their head on shame irrespective of their country because it's happening in every country. Our women and daughter are not saved and their atrocities used for Vote bank diversions by Political and Intellectual class.
Justice for Asifa and Justice For Mina