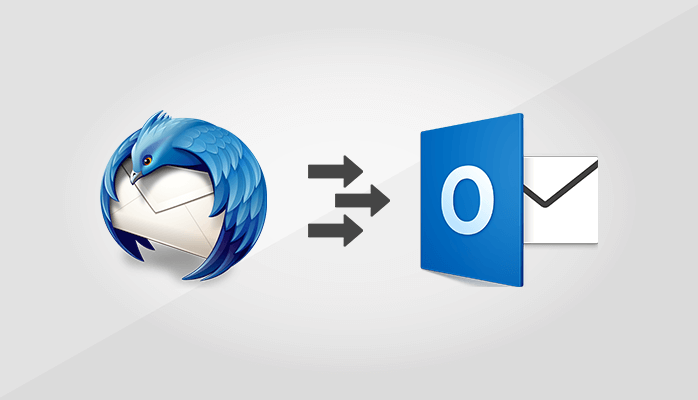 If looking forward to a solution that will export emails from Thunderbird to Outlook? Then read this blog it will help users to solve this migration problem. Basically, in this blog, we will recommend different methods to convert Thunderbird to Outlook PST.
Now we are going to tell users about the reasons behind the Migration. Because Before performing the conversion process. Users should the reasons. So, let start.

Why We Convert Thunderbird to Outlook?
However, we are aware that Thunderbird is a free email client and can even command multiple emails and identities. Let us discuss advance features of Mozilla Thunderbird's and that are Advanced Fast Search, Junk Filtering, Extensions, and Themes. On the other hand, Outlook is a cross-platform email client that can be effortlessly installed on Windows, Mac, Android, and IOS. Also, it includes contact, task, calendars, events, etc.

Hence because of easy to use graphical user interface (GUI) and updated feature large or small compies preferred Outlook first. The outlook is the most reliable platform, To satisfy their needs. And this is the reason why users are trying to import emails from Thunderbird to Outlook.

Formats Supported by Thunderbird and Outlook
Now let us start with the manual solution to export emails from Thunderbird to Outlook. And it is known Thunderbird includes all emails in MBOX format and Outlook includes all emails in PST format. So, that expects the conversion of MBOX to PST format takes place.

How to Convert MBOX to PST manually?
Method 1: By IMAP
Use the IMAP server to configure the Gmail account in Thunderbird.
Move the Gmail messages by creating a new folder in Gmail.
Now you will see all the messages exported in your Gmail account.
Configure the same Gmail account in MS Outlook by using POP or IMAP and then download all email messages there.
Notice: Less amount of emails can be exported by this method.
Method 2: By Drag-and-Drop method
In this method, there are basically two phases:
Export Thunderbird emails to EML files.
Import EML files into Outlook.
Export Thunderbird emails to EML
Select the mails to be exported from Thunderbird.
Now create a new folder on Desktop.
Then drag all the chosen emails and drop them into the new folder make on the desktop.
Import those EML files into Outlook
Firstly, open Outlook.
Now navigate to the folder to import the Thunderbird emails.
Then Drag all messages of the desktop folder into the Outlook folder.
Thunderbird messages will be imported to Outlook.
Notice: Works only with Outlook 2010 and earlier versions.
I would like to tell users that these processes are time-consuming along with that no austerity of the output that will be developed. In this case, users always prefer an expert solution to overcome the drawbacks of these manual solutions. Therefore, we have given another solution i.e MBOX Converter which is a third-party utility used for directly converting MBOX to PST. It is widely used software also it migrates from MBOX to EML, MSG, EMLX, MHT, TXT, etc.
Final Thoughts
We have given all the possible methods solution which includes manual as well as an expert solution to Export emails from Thunderbird to Outlook. Now it is up to you either to pick a direct way and if it is not satisfied you then go with manual ways.