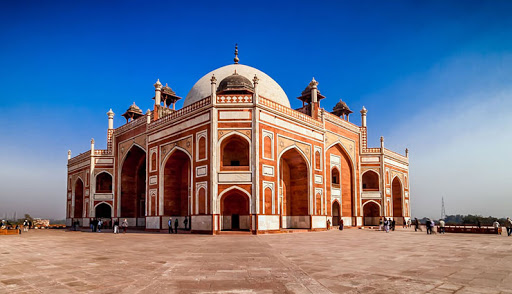 India is a country full of hidden gems that you can explore without spending a hefty amount. The wide range of famous monuments and archaeological sites provide the testimony of India's rich ancient history, art, and culture. Here is a list of best places to explore if you are a history lover.
1. Chittor Fort - Chittorgarh
Standing gracefully and strong as a citadel in the ground of places and forts, this ancient beauty is an ode to Indian architecture. Located in the historical city of Chittorgarh, this epic Chittor Fort honors the Rajput gallantry and is one of the largest forts in Asia. Fort was constructed in the 7th century, this fort complex is spread across 700 acres and is worth visiting. It houses 7 gates, 65 structures, 2 towers, 4 prominent palaces, 19 temples, 20 water bodies, and 4 memorials.
2. Kumbhal Fort - Kumbhalgarh
Fort dating back to the 15th century, this fort has made its mark in history and stands the position of having the 2nd largest walls in the world after The Great Wall of China. Surrounding the area of Udaipur, this fort is located to the west of Aravalli hills. The wonderful architecture of this fort is so strong that even after surviving several wars, its boundary is unbreakable. Several temples, Lakhola Tank and 7 fortified gateways, are located inside this fort.
3. Warangal Fort - Warangal
Making its position in the best heritage cities of India, Warangal is a gem and second-largest city in Telangana. Attracting several tourists across India, the Warangal Fort is a symbol of the historical opulence of the Kakatiya Kingdom. Built-in the 13th century with 3 layers of fortification for absolute safety, this fort impresses all the tourists. Currently featuring the remnants of wall slabs, entrance pillars, ceiling panels, the Shiva Temple, this fort gives the glimpse architectural excellence of the ancient times.
4. Kanheri Caves, Mumbai
The group of ancient Buddhist caves cut out in rocks and located in the backyard of Mumbai within tranquil surroundings are the Kanheri Caves. It features a group of 109 caves that spans from the 1st century BC to 11th century AD. These caves were constructed to give insight into the rise and fall of Buddhism. Kanheri Caves are the most significant caves carved in a single hill.
5. Roopmati's Pavilion - Mandav
Mandu is a historic city, adorned with a number of ancient palaces and monuments. An exciting and most visited place in Mandu is the Roopmati's Pavilion. It is the symbol of undying the tragic love saga of Rani Roopmati and Prince Baz Bahadur. Located atop a hillock, on the south of Baz Bahadur Palace, the Roopmati Pavilion has initially been an army observation post. This is a place where Roopmati watched her love Baz Bahadur. The views of the palace and 305m river Narmada flowing is a site to admire from this Pavilion.
6. Kangra Fort - Dharamshala
Majestic in size, this fort famous for its mesmerizing location, is situated in the Kangra valley and is one of the oldest forts in India. The perfectly built gateway, structure, courtyards, temples, and door of this fort make it a perfect place for all the history lovers to explore. The breathtaking views of the surroundings from the top make this fort worth a climb.
7. Durga Temple - Aihole
If you are a history admirer, then Aihole is a perfect destination for you! The Durga temple is undoubtedly the most beautiful archaeological charm of Aihole. Constructed during the Chalukyan rule, this temple with appealing stone carvings and sculptures are fabulous. Although it is named Durga temple, it is dedicated to the holy trinity of Hinduism, Lord Shiva, and Lord Vishnu.
8. Monuments and ruins of Hampi
Hampi is a place of both historical and architectural significance with various monuments and ruins. It was a prosperous and largest city during its time of vigor and power. Virupaksha Temple, Vittala Temple Complex, Ganigatti Jain temple, Chitrangini Mahal, Lotus Palace, etc., are some of the best attractions to see in Hampi.
9. Gwalior Fort - Gwalior
When we talk about forts, the Gwalior Fort needs a special mention. Fort is situated atop a hill, amidst the picturesque surroundings, this fort is a living beauty of ancient times. Known for its rich culture and royal past, this fort located in Gwalior sees a huge crowd of visitors every year. The fort's fascinating structure, temples, and unique monuments take you back to the history of Rajasthan.
10. Tipu Sultan Palace - Bangalore
Showcasing the Indo-Islamic architecture, this magnificent summer home of ruler Tipu Sultan is a wonder. The king often called this two-storey palace as Rash e Jannat (Envy of Heaven) and Abode of Happiness. Combining the historical richness and architectural excellence, this palace boasts magnificent arches, ornamental frescoes, brilliant motifs, and protruding balconies.
11. Sun Temple - Konark
Striking model of the fluidity of ideas, educational treasury, and ancient artistry, the Sun Temple is a jewel of Konark. It is dedicated to Lord Surya - the sun god because the first rays of the sun touch the entrance of this temple. Although this temple fell prey to rack and now features the ruins, it is still captivating and holds its charm. The alluring Kalinga architecture that the masterpiece depicts attracts tourists, archaeologists, and historians around the globe.
12. Golconda Fort - Hyderabad
Golconda Fort is the best-preserved ancient monuments of Hyderabad of the 1600s. Interestingly, this was the palace where the precious and most valuable diamond Koh-I-Noor was kept. The rich history, legends, and brilliant architecture add to the mystery and allure of this fort, which makes it the most visited monuments of Hyderabad.
13. Bir Singh Dev Palace - Datia
A palace where no royal resided is this beautiful and impressive 7-storey Datia palace built on a hillock. Made of bricks and stones, this palace stands without the support of wood or metal. Featuring 440 rooms, several courtyards, this palace is the best example of Indo-Islamic architecture in India. Visit the Paytm Insider website and avail Insider coupons if you wish to visit these places.
14. Qutub Minar - Delhi
Towering 73m high, this tall tower was constructed by Aibak to honor the Muslim dominance over Delhi. Projecting five levels and balconies, this tower is the highest in the tower in India and visited by many every year. This monument has a tower, Mosque, iron pillar tomb, Minar, and Darwaza.