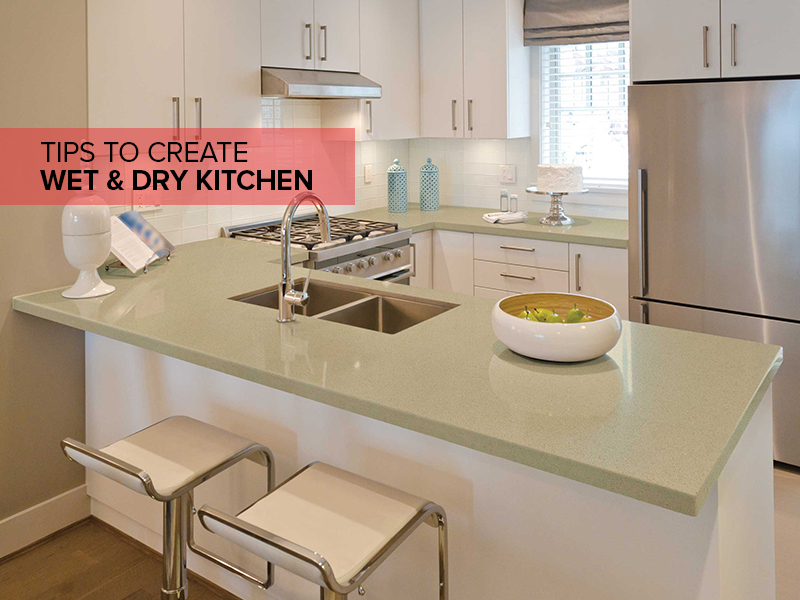 Separating wet & dry kitchen is one of the emerging trends of 2021, especially in urban Indian homes. It is important to keep up with our lifestyle and also to maintain the long life of your kitchen. Indian cooking produce loads of smoke, odours and grime, and that can affect the life of your kitchen, which includes the equipment, tile, countertops, backsplashes, ceiling. So, it is important to have a wet-dry kitchen floor plan.
Basically, the wet kitchen is used for heavy cooking and washing, while the simple dry kitchen design is comparatively smaller and is used for light cooking & small jobs like cutting fruits, baking, prepping, etc.
If you are renovating your home, make sure that you are designing your kitchen accordingly for a modern look and practicality. Here, look at some of the ways in which you can create separate wet and dry kitchens design in India for your ease.
Create Partition:
The wet & dry kitchen should be close to each other, and so to ensure the ease of movement between the area, it is advisable to partition the two with a hinged or sliding door or a glass partition. Just make sure that the wet area is not visible from the sitting area, as it tends to get dirtier. Also, make sure that your dry kitchen is organized all the time.
Ensure Proper Ventilation:
The wet kitchen sees loads of frying, boiling and washing, which produces steam and heat, and so it should have proper ventilation. If there is no decent ventilation, moisture will build and mould, or mildew will grow. If the wet kitchen does not have a big window, install a chimney or an exhaust fan to release cooking odours, smoke, heat and other kitchen pollutants.
Create Multifunctional Areas:
The best part about a dry kitchen is that it can double up as a bar or a breakfast counter. You can also air-condition it and integrate it with the living and dining areas of an open plan home design. You can do all the prepping and chopping and baking over there as well.
Segregate the Appliances:
To maintain ease, you have to segregate the kitchen appliances in both of the kitchens. The wet kitchen should include a cooktop, chimney, utensil sink, cookware, dinnerware and basic cooking utensils. While the dry kitchen should include a toaster, coffee machine, induction hob, baking equipment and a shallow sink for cleaning knives and hand washing. The refrigerator, microwave and mixer-cum-grinder can be installed in both kitchen, so you decide which is convenient for you.
Maintain Uniformity:
When you choose digital tiles for backsplashes, quartz for countertops, floor tiles or faucets for your sink, make sure that they are the same in both wet & dry kitchen. It will create uniformity in the kitchens and make them complement each other better. For the kitchen, it is better to opt for ceramic or porcelain tiles as they are easy to maintain.
If you are looking for any of this stuff, you can all these at AGL. AGL have a wide range of tile, countertops and faucets.
If you are looking for living room decor ideas,