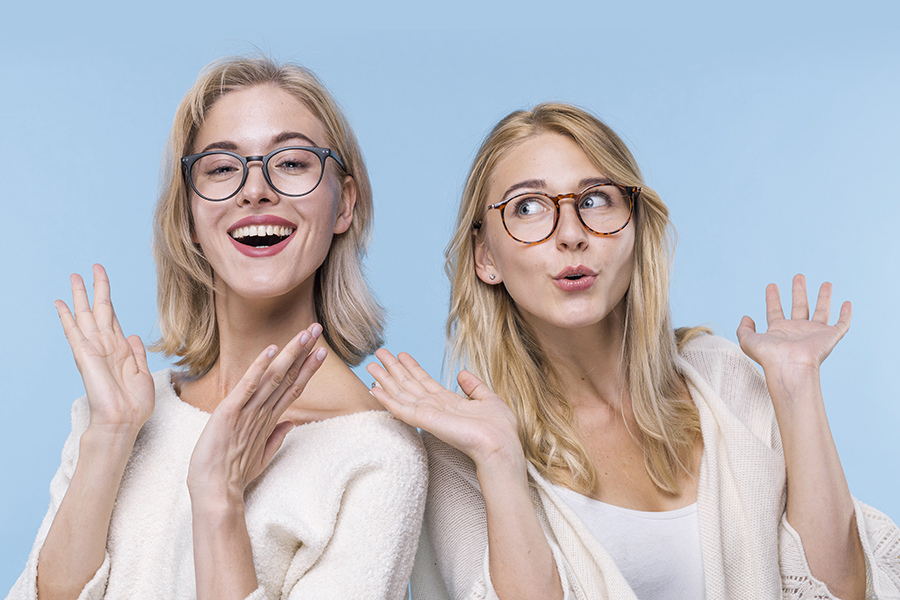 Buying perfect eyeglasses online involves doing much research and homework than what you think. An ideal pair of glasses is the one that fits your face the best and suits your everyday clothing style. In this article, you will find out how to approach your next eyeglasses online shopping in an organized manner and succeed in finding the right pair that work wonders for you.


#1 Check the Eyeglass Frame

Your eyeglass frame tells a lot about the style you opt for. This means you the top bar of the frame should follow the eyebrows' line. Make sure you check the frame size to not have your eyebrows way too above or below the top of the frame.
Also, your eyes should be right at the center of frames and especially avoid following the guidelines solely based on your face shape. For instance, an oblong face may have a big nose, and you should be considering nose shape and size as well.
For those of you ladies looking to choose perfect eyeglasses online, then try identifying the shape of your face to determine the eyeglass frame accordingly.


Round faces

If you have a round face, then don't go for any round or curvy frames. Instead, sharp, edgier, and angular shapes to balance the face symmetry. For instance, you can choose Cateye glasses here.




For Oval faces

Oval faces are mostly long and thin, which means ant style would naturally go well but few diminish your face shape. In such cases, avoid lightweight aviator-style frames that make your face look longer.




Heart-Shaped Faces

Heart-shaped faces have a pointed chin that needs frames that balance it out the thicker bottom and add width to your overall look. Try choosing the Retro style eyeglasses having pin details that help attention to eyes rather than a sharp chin.




Glasses Complimenting a Big Nose

For those having a big, pointed nose should select frames having a low bridge and preferably a wider key hole. This is to negate or at least plummet the pinching effect that a frame with other shapes may create.




Countering Receding Hairlines

If you are facing the problem of receding hairline, then a dark frame is your go-to option. Ensure it holds a medium thickness and boasts a robust and horizontal line. Do not choose clear frames or rimless ones that further make your face look elongated.




For Close-Set Eyes

People with close-set eyes should avoid wearing any light-colored, especially if it comes with a dark nose piece. This is because such a pair of eyewear will pull all the attention to the centre of the face. Going with the larger frames or carrying some details on the temple arms is highly advisable.
#2 Choose your Eyewear Brands Wisely
Each eyewear brand comes with a set of unique features and style. Depending on your face style and shape, go with the brand that brings out the best features on your face and minimize the impact of other features.
Zynamite
Zynamite is a highly modern brand with a lot of go-to options for women looking to buy eyeglasses online in India. It is an excellent solution for students and office-goers as this kind of glasses are made up of acetate and top quality plastic. You can choose from the type of frame shape and style like rectangular frames in rimless style, full-rim and half-rim. These are top-quality frames at an affordable price of Rs. 999.
Joe Bianchi
If you fancy boasting an uber-chic look and get trendy on occasions, then go for Joe Bianchi brand. These are the best of the frames to buy in today's time to dress in some swag and get the style that you have always yearned for. Joe Bianchi has vivid frame shapes, gradients on temples and front, and even metallic finishes to choose from. This one provides style with substance and is indeed a bang for the buck.
Staten Island
A high-end eyeglasses brand for women looking to buy pairs that create a more significant impact. If you are looking to overhaul your looks and personality, then pick this up and enjoy all the attention. Staten Island is a brand high on elegance, style, and trend. You will find oval, clubmaster, and aviator style of eyeglasses that will lift your whole persona.
#3 Select the right type of material
As you scan through various styles, shapes and colors when choosing the perfect women eyeglasses don not forget to check the specifications before picking it up. This means deciding the purpose for which you are looking to buy glasses will lead you to choose the frame material as well. There are many types of stuff that goes into making a brilliant pair of eyewear. It includes acetate, plastic, metallic (steel, platinum, etc.), blended nylon frames, and many others. Check out the quick comparison chart of material-based frames that can help you decide the right frame material based on your preferences.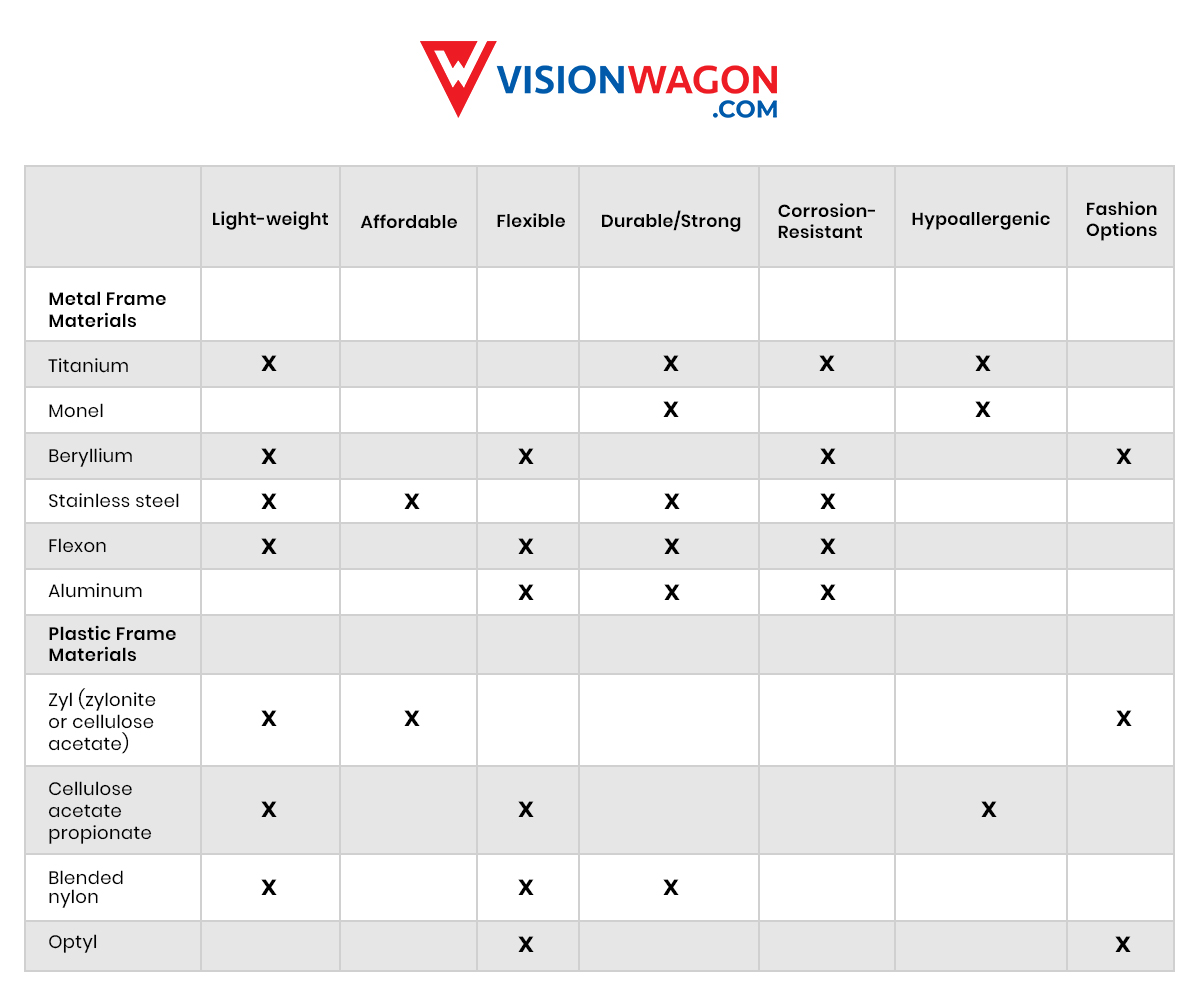 The top coating also depends a lot on the type of material. For example, gradient frames are only possible in acetate frames.
Conclusion
Selecting ideal eyewear online maybe a tough task for women, especially it also involves choosing the glass type after finalizing the frame. A perfect eyeglass for women will have lenses that complement the style of frame. There are three types of lenses available – glass lenses, anti-glare or anti-reflective lenses, and blue cut lenses.
Make the choice that fits your budget and also suits your style. Heavy, metallic frames can hold glass-based lenses while choosing the glass for the acetate frames is not recommended. Most of the brands mentioned above offer free complementary lenses for you to try out and decide better.