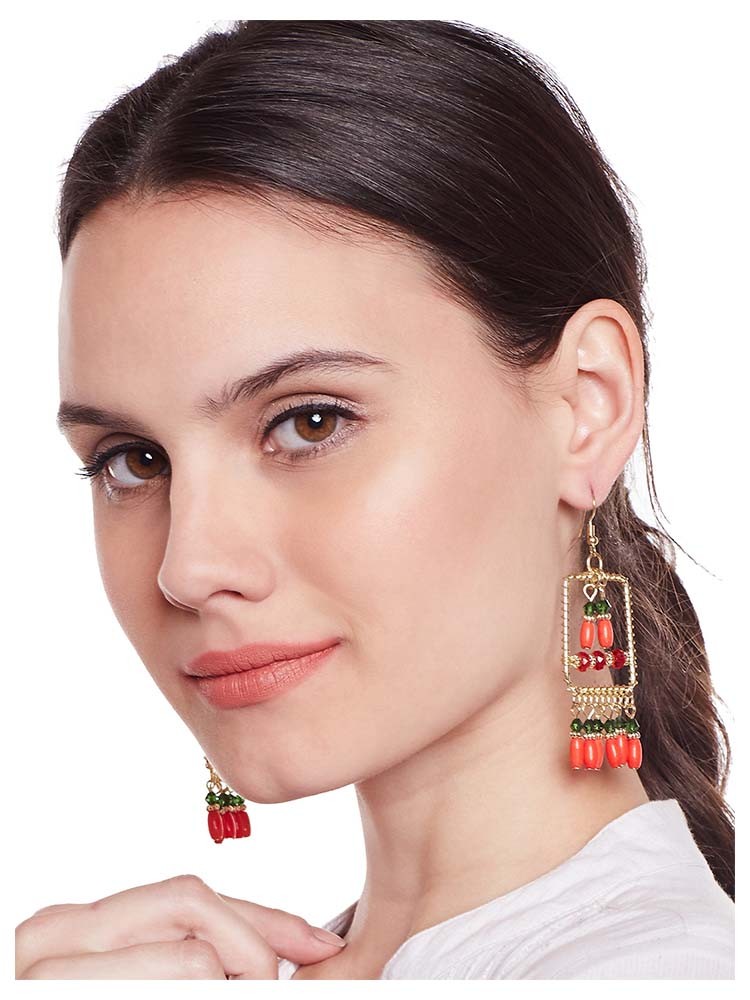 We understand the needs of the beautiful women in the world and to cater to them, your
favourite online jewellery store has something special in-store.
The Globox is a unique proposition offered by Zerokaata. The aim behind globox is to provide
beautiful women in the world with a specially curated jewellery box for their varying needs.
About 3 to 4 unique pieces of jewellery are put together in the box as per the customer's needs.
These jewellery pieces provide one with the right solutions to their accessorizing problems.
And the best part- EACH BOX IS UNIQUE
This means that the globox you get is a single unit. These Myntra seller boxes are something that
will always remain personal to you, the reason being that once the box is sold out, it will never
be restocked again!
Themes curated keeping 'YOU' in mind.
The 4 major product lines that sell with Myntra are-
1. URBAN LACE

For the marvellous Contemporary Jewellery.The above image shows that this myntra seller box contains a set of contemporary choker, 1adjustable ring and a pair of flower earrings.
If you want accessories to match with all your modern and contemporary needs then you should
seriously consider making Urban Lace by Globox as your new friend. This box contains delicate,
statement, modern and Urbanic pieces to ensure you 'WOW' everyone with your style.
2. Four Souls

For the love of Stylish Earrings.
The above box contains 4 different styles of earrings- ethnic, drops, brass and dangle-drops.
These pieces are perfect if you want to stand out in a crowd and make everyone's jaw drop with
your fashionable earrings.
Styling Tip: These earrings are sure to stun everyone and can be paired with your ethnic,
contemporary and western outfits. These statement pieces ensure that you make the heads turn
and make you a trendsetter.
3. MUDRIKA

For the love of Silver Jewellery.
The above-shown myntra seller box contains a gorgeous necklace and two pairs of silver
gemstone earrings. These pieces are the right choice if you want to wear a minimalistic yet
elegant design.
4. TRIBAL TRINKETS
For the quirky Tribal Jewellery.
The above box contains a tribal necklace, pair of earrings and an eccentric bracelet. The Myntra
seller 'Tribal Trinkets' box contains magnificent pieces such as chunky silver necklaces,
oxidized silver rings, adjustable oxidized silver bracelets and German silver earrings.
STILL NOT CONVINCED?
If you still need reasons to ensure that you are taking the right call by buying our boxes that sell
with Myntra, then check out the pointers below. They are sure to change your mind!
5 REASONS WHY YOU SHOULD BUY THE MYNTRA SELLER GLOBOX:

We know you believe in looking 24*7 fabulous but that does not mean that you should expose
your skin to jewellery that causes rash, itch and redness. The Glowbox jewellery is perfect for
you if you have sensitive skin and are looking for skin-friendly jewellery pieces.
2. VOCAL FOR LOCAL
ZeroKaata is a brand that is made for Indians by the Indians. All pieces of jewellery here are
crafted by Indian artisans with utmost care and precision. We strongly support India's goal of
becoming self-reliant and we try every bit from our end to make that vision a reality and that is
why all jewellery pieces supplied by us are either handmade or handcrafted by Indian Artisans.
3. DIVERSE COLLECTION AT AFFORDABLE RATES
Extraordinaire in your Budgets!
Jewellery these days is very expensive and sometimes dig a big hole in your pockets. If you are
someone who loves collecting jewellery, however, does not want to give up on half your
paycheck because of it, then try going for these myntra seller globox jewellery pieces. The total
worth of the jewellery pieces in every Globox is much more than the total cost of the box.
The box that is as unique as your personality!
The most beautiful women in the world deserve the most wonderful gifts and trust us when we
say this, you cannot find anything better than these boxes!
Nothing speaks as loud as your jewellery and so, you just have to get your hands on this box.
STOCK UP RIGHT NOW and share the box you liked the most in the comments below.
Happy Styling!