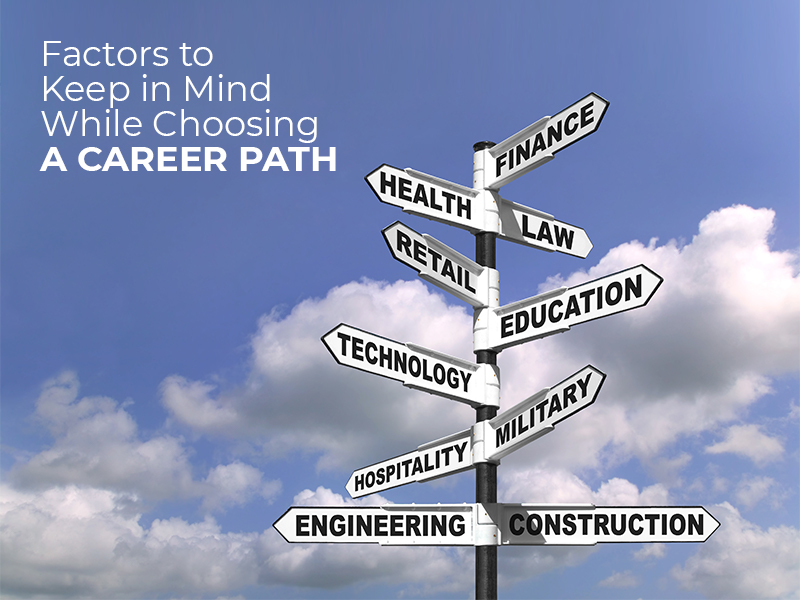 Choose a job you love, and you will never have to work a day in your life. — Confucius
Well, this quote rightly expresses the statement that most of us believe. One of the popular pieces of career advice that every aspirant get is - Choose a career that resembles your skills and interests and adds meaning to your life.
But how to choose such a career? Deciding on the right career is a tight spot that every person faces. The pathway to arrive at the right career decision leaves one with numerous questions spinning on the top of their heads. And of which one such most wondered question is - what to do next.
So, if you are wondering how I should choose a career that I enjoy working in, then here are some quintessential factors to consider when choosing a career path. Whether you are 17 or 35, these factors will be of great support!
Factors to Consider When Choosing Your Career Path:
Your Personality
Out of all, the most vital factor to consider when choosing a career is what kind of personality you have. It is essential for your happiness and job satisfaction. If you are an extrovert, then a career in customer service, sales and marketing etc., might be of interest. While if you are an introvert, then a career that requires fewer interactions are ideal for you.
Extroverts find it challenging to work in roles that limit their interactions. Similarly, introverts are bothered if required to indulge in more customer interactions.
Being Passionate about a Career is not Needed.
You would've always heard that everyone should be passionate about their career. However, it's not always needed; you cannot be passionate about the career you choose, but you should definitely be interested in it. It does sound a little unconventional from those accepted credos, but that's what it is.
Sometimes it's good to keep your passion and careers divided. Because at the start of your career, you tend to struggle and work hard a lot and that exhaustion can lessen your desire and affect your mental well-being.
Your Skills & Interests
Figure out what are the things that you are good at and try if you can find a career that requires you to apply those skills. Your skills play a pivotal role in defining what next you can do in your career. To exemplify, if you have a knack for numbers, then a career in finance can prove to be thriving for you.
You will require finding out your interests and then checking if those interests by chance can be utilised in your career or can be converted into your career. If you are unaware of the interest you possess, then there's always an option to take up online assessment tests.
Get Some Beforehand Experience
Before choosing a career path, you should be aware about the real corporate scenario of the industry you wish to work in. Talking with professionals who are already pursuing the same career will help you gain some genuine experience. Except for this, you can also take a small internship and actually work in the industry.
With such experiences, chances of regretting the decision you made will be less as you are aware of how things are in your preferred industry. It will aid you in getting a direction towards taking a decision that is right for you.
Job Market
Before settling on a career, be assured of the job prospects the field proffers. It's good to focus on a career path where demand is expected to remain high. Besides, you must check that jobs in the career path chosen are not likely to be replaced by machines or robots in the future, thanks to the advancing technology.
In essence, make your ultimate choice only after studying the job market in that career. The prospects should be promising, so research well and keep yourself updated with what is available for you, and the chances of it getting exhausted now or in future.
So, all in all, find the career that is a perfect balance of your personality and skills, makes you happy, have ample employment scope, and you have a realistic picture of how work goes in it.
Thoughts on what degree will be a perfect start to build a rewarding career?
You must explore the degree courses of elite institutes like Marwadi University in India. Give your career an edge by choosing from top-notch and most in-demand programmes that are practised using a hands-on learning approach!
Get on the path to pick your dream career!