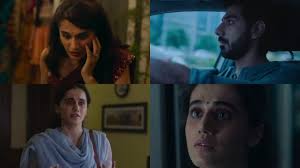 Thappad directed by Anubhav Sinha and headlined by Taapsee Pannu is a not-so-subtle take on domestic violence. The character Taapsee essays move to court to file a complaint against that one slap. A slap here chronicles the beginning of toxicity within a happy marriage, it always somehow goes downward spiral from there. Her world comes crashing down on that one fateful night and triggers the turn of events that take place later. Expect nothing less than a hard-hitting, gritty drama which has shifted from UP's badlands to a plush Mumbai apartment. High-profile lawyers also scrutinize and grill the central character like a cop would. Court-room proceedings are key to many recent Bolly blockbusters, the best being Taapsee's own acclaimed cinema, Pink.
The trailer focuses mostly on Taapsee but there is a slew of other actors, some of them are Anubhav Sinha regulars and veterans, Kumud Mishra being one. It has some powerhouse female actors like Ratna Pathak Shah and Tanvi Azmi.
My mother had ignored her needs and prioritized solely on my father's, only to find him straying from his responsibilities and in turn slowly drifting away from her. He too began treating her like a mere caretaker. Her demands became an obligation rather than with affection. A maid is also a woman who suffers fervently. She is also considered to be at the disposition of her husband. There is a parallel track featuring the maid and her husband. She narrates her regular ordeal to Amrita(played by Taapsee). She fathoms that her dreaded nightmares might come true. It dares to ask for some vital and relevant questions.
In one scene Amrita(played by Taapsee), says she has long ignored a lot of his flaws and mistakes till he slapped her. It brought back all those memories that she had turned a blind eye too. The matters were subliminal, swept under the rug till she no longer could take them. It brought to fore what always existed but was never noticed.
Taapsee has always taken the road less travelled by, barring the forgetful Chashme Baddoor. She has clearly charted out her own path in the industry, she is no longer a "sasti copy". She shed her fiery urbane persona for a more driven quieter but firm attitude.
Welcoming and refreshing to see Dia Mirza finally picking roles that suit her, whether supporting or not. A dialogue sums up the trailer, 'A slap it was, that point will only be upheld in my petition'.