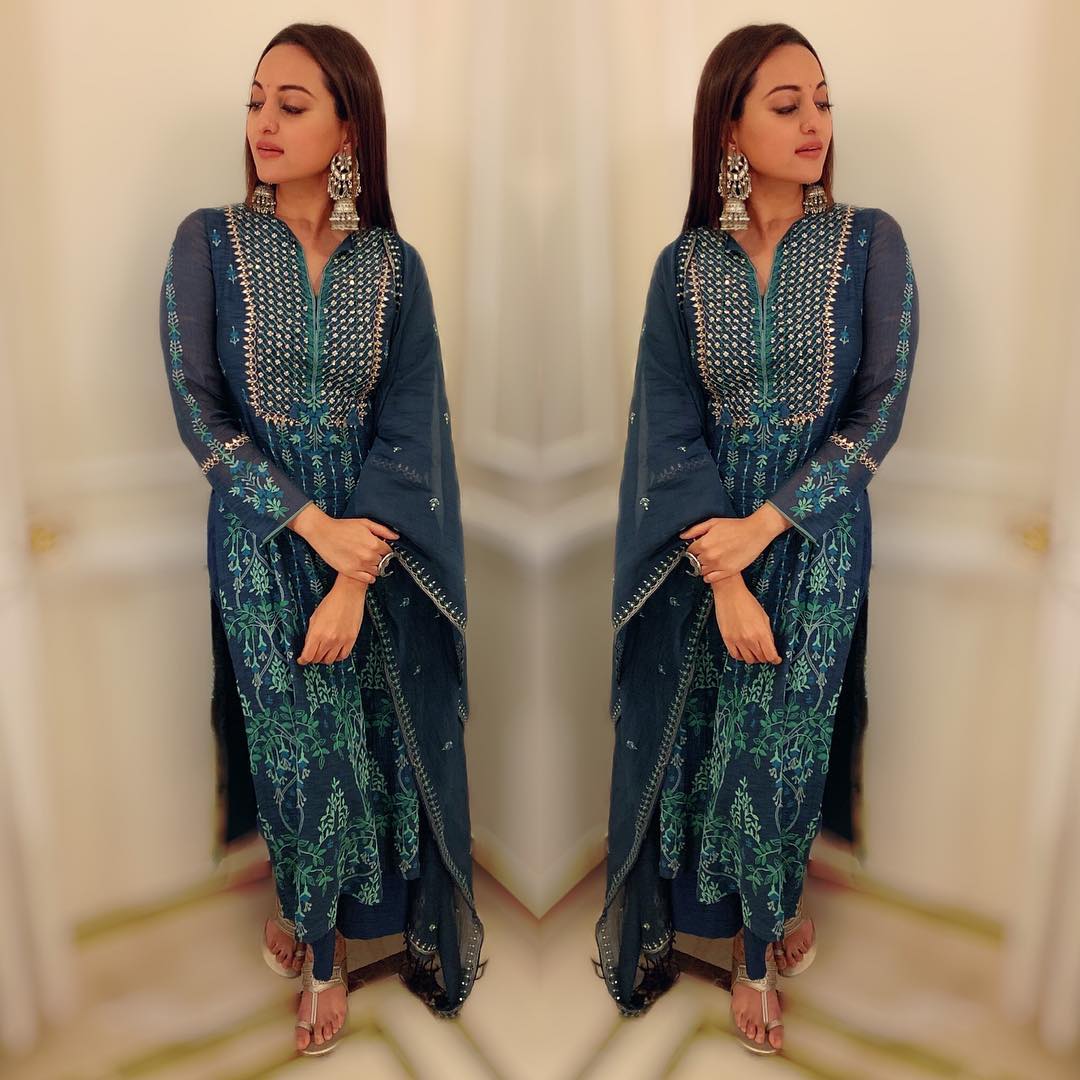 Women often struggle with styling their work looks. Everything said and done office wear looks aren't so easy to style in general. There is always a fear of looking over-the-top or too flashy at the corporate workplace. Women usually stick to the basics of clothing and jewellery, which is acceptable but is it exciting enough? Well. Not so much! If you're a fun girl who likes to spice up her look with accessories in general then you shouldn't keep away from doing the same with your office looks. Throw in some fun office wear jewellery to spice up your outfit. You can add a pair of earrings of stack some bracelets for that added glam provided you are good-enough with styling.
For others, here are some ways to style your beautiful jhumkas to office. Read on!
Kurti
Pair your ethnic or semi-ethnic Kurtis with oxidized silver jhumkas. This look is a no-brainer but also very impactful at the same time. The beauty of silver jhumkas is that can elevate even the simplest of looks. Try it and thank us later!
Monochrome saree
Sarees have become a staple at Indian workplaces. You can surely take your cotton sarees for a spin to the office on special occasions like Diwali, Independence Day and Word Ethnic Day. Try these beautiful double-layer oxidized silver jhumkas for a fantastic look.
Jeans and t-shirt
Add a jolt of Indian drama to your everyday basic t-shirt and jeans look with a pair of these meenakari jhumkas that have our heart. We love the pop of colour this pair adds to the casual look.
Formal shirt & trousers
Who said your formal attire has to look boring? We believe that you can very-well style your formal trouser and shirt with statement jhumkas to keep that desi diva alive in you. Something like this pair would look stunning.
Indo-western tunics
With summers approaching, tunics are going to be your best friends. You can style your indo-western tunics with statement necklaces and matching jhumkas that add oodles of Indian glam to your corporate look.
Now, there's also a list of don'ts that you should abide by when styling jhumkas for work. Take a look.
Too much is too much
Don't go overboard with accessorizing. Keep your office style minimal but very creative as you don't want to look like a walking jewellery shop amongst all those poised ladies at the office.
Experiment but sensibly
Be stylish and fabulous but don't get too experimental with your office looks. Remember to either wear jhumkas or rings or pachelis – Don't go overboard!
Colour rule
When earing jhumkas be careful about the colour of the jewellery and the outfit. Match your neutrals with gold jhumkas and popping coloured outfits with german silver jhumkas.
Size matters
Strictly refrain from wearing your jhumkas with ear chains or elongated chains that sit behind the ears. Keep your jhumkas sizes in check before you head out for work. Do not add any extra elements to your jhumkas as you do not want to catch unwanted attention.
Match your jewellery
To avoid looking like a fashion disaster, stick to a single colour scheme for your jewellery. Follow the tone of your outfits and accessorize n h same colour family for a killer look. This would keep your entire look balanced and sealed together.
A lot of women enjoy accessorizing with necklaces, bangles, earrings, bracelets and rings but they usually do nothing to enhance their look. Instead, too much of accessorizing kills the vibe of the look which would have easily been a head-turner. The right kind of accessories can level-up your look but the wrong choices can make you look like a clown. To avoid any fashion faux pas, follow our list and buy jhumkas from online jewellery store with enough variety of office wear jewellery.