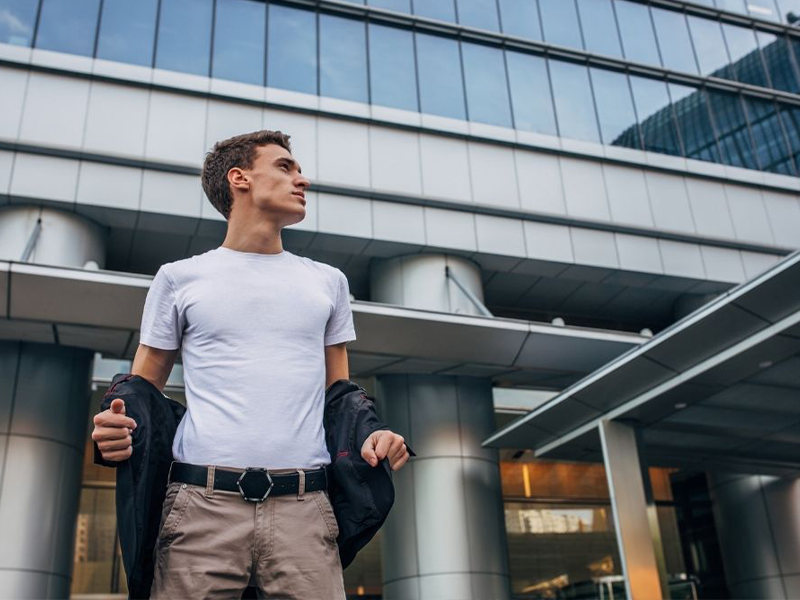 Do you get a shiver just thinking about going shopping? Do you find it difficult to locate a shirt that covers your wrists without making you feel like you're wearing a tent? I understand your distress, but it doesn't have to be this way.

After years of attempting (and failing) to dress correctly, I've finally come up with a terrific guide sheet of fashion advice for tall and skinny men. It's time to turn those "how tall are you?" and "do you play basketball?" questions into "where did you buy that outfit?" questions.
Tips for Shopping for Tall Slim Men's Clothes
For us tall and slender guys, fashion does not have to be a dirty word; nonetheless, you must be well-prepared to take on the task. The objective is to produce a proportional optical illusion. It's critical to know what you're searching for when you're out shopping.

Here are some of my tips for highlighting your height through apparel and maximizing the natural attention you draw.
Invest in layers of clothing
When it comes to tall skinny guys fashion, one of the first things to remember is to layer. The idea is to SUBTRACT height and ADD mass to create the illusion of proportion.
This does not imply that you should dress in billowy clothes; instead, you should layer slim-fitting apparel. To help you bulk up a little, put a thick undershirt inside your jeans. Using many layers such as an undershirt, t-shirt, and blazer not only adds thickness to your torso but also creates a focal point. This serves as a nice diversion.
In the same line as the layered method, choose heavier fabrics when choosing your clothing. Heavy fabrics, such as denim, flannel, tweed, or corduroy, will add heft to your frame and give you a more muscular appearance.
Vertical stripes should be avoided
This is one of my favourites, and it's simple to make. Vertical stripes should never be seen on slim or tall men's apparel! These prints should only be worn by short men. The stripes will lengthen your shape and make you appear taller than you actually are.
For tall and slim men, horizontal stripes or components, such as pockets or belts, are now ideal. They'll give your appearance a sense of heft and depth.
Smaller Prints are a better choice
When it comes to prints for tall slender guys, stay away from flashy, loud prints. Like a gigantic flag waving high above the throng, you'll draw even more attention. To add a trendy touch to your shirts, stick with smaller prints.
Make Contrasts Work for You
It constantly amazes me how few guys in general are aware of this fashion tip. Never wear the same hue, or even the same shade, all at the same time. This is especially true in the case of tall men's fashion. Using contrasting colours and textures to break up your clothing will create a visual distraction.
Tight Pants Aren't Necessary
But first, a word of caution. Don't wear skinny leg pants, even if fashion mandates it. Tall slender guys should never wear pants that are too tight. Instead, choose slim or fitted pants that allow you to move freely, bulk you up a bit, and don't draw attention to your long legs.