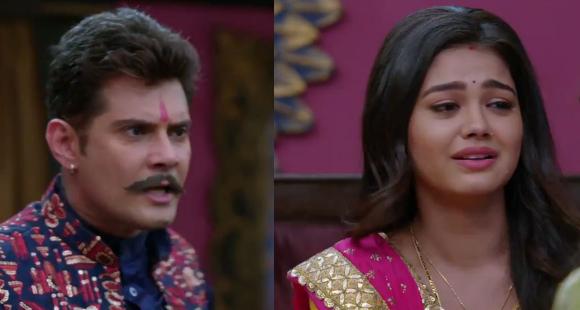 Purvi reaches a fork in the road. God, thank you for rescuing me; otherwise, I would have been in serious trouble. It's fortunate that he noticed the phone. She takes a peek inside Manas' chamber. Manas is enjoying himself with Juhi. Purvi thinks you jokingly referred to me as a stepmother, but I know they are just as important to me as Priyu and my brother. Manas smiles as he glances at the door. Haathi! Purvi goes into hiding. Virender peers out the window, but the corridor is deserted. Outside, there is no haathi. What were your first impressions about the haathi? Haathi, according to Manas, was present. This Babbar Sher, according to Virender, will go outside and check it out for himself. He goes outdoors to see what's going on. Virender is approached by a nurse. I'm here on night duty. At the reception desk, I've left a prescription for Manas. Please bring it with you. Virender departs. Read more about Molkki Watch Online.

Purvi enters the building. She takes a needle and injects it into her arm. I'm going to have to inject you. He turns back, concerned, and takes Juhi's hand in his. Purvi tells him that she will not harm him (in her usual tone). She takes off her mask and shield made of glass. Both youngsters give her a big embrace and smile. Manas inquiries about her whereabouts. I was sorely missing you. Purvi expresses her regret to him. Babbar Sher refused to allow me to meet you. Manas, on the other hand, claims to have improved his demeanor. When you weren't around, he looked after me. Purvi grins. That makes me really delighted. Now you must follow my instructions. This manner, no one will be able to separate haathi (elephant), gainda (hippo), and khargosh (rabbit). She lays out a strategy for them (in mute).

Virender is taken aback when he learns that no one has left a prescription for Manas at the front desk. There is no lady doctor on duty, according to the nurse. Virender is curious as to who that lady was back then.

Purvi finds Virender returning just as she and the kids are about to leave. She goes into hiding. Virender passes her by but does not notice her. Purvi tells Manas that they must also conceal this from Mukhiya ji, and Manas says Baba. She takes the children with her.

Manas and Juhi are absent from the scene. Virender claims that the doctor who fled with my children will not be able to flee from me.

Purvi mentally apologizes to Virender. I felt impelled to do so. Purvi looks into the packet and discovers a phone in a flashback. It's the same phone that was used to record the sexual incident. Who is the creator of this video? Just then, she receives an SMS on that phone. The sender claims that he or she can upload it in seconds. Your sister won't be able to show her face in public after that. If you tell anyone about this, I'll make sure it happens. Before I do this, kidnap the kids from the hospital and flee the scene. The flashback is over.

Purvi believes I know you'll never forgive me, but I'm not going to let Priyu's life be ruined like this.

The police and Virender's relatives arrive at the hospital. Virender is asked if he has any doubts about someone. Virender's mother claims that no one can harm him. Anjali describes how children can vanish from a hospital during the day. They're not going anywhere with a stranger. A member of the crew apologizes to Virender. We'll do everything we can to locate them. Inspector instructs him to take them straight to the CCTV room. We'll be able to get some information this way.

Purvi takes the children and herself to an old building. No one comes here, said the auto driver. Priyu tells him to take care of himself. Purvi is confident that no one will be able to locate them in this location. Manas inquires of Purvi once more. Purvi tells him that she would inform him of everything as soon as possible.

The CCTV tape is being seen by Virender and his family. He notices the same doctor driving away in his car with his children.

Purvi instructs the children to keep Babbar Sher from learning anything about the game. Manas inquires if this is a new hide-and-seek location. Juhi coughs and sneezes. Purvi smiles and nods. If we had stayed at home, we would have been easily found. We won't be able to be found here. Manas and Juhi claim that no one will be able to discover them here in the first place. It's very dusty, according to Juhi. We won't be able to sit here at all. Purvi cleans two of their seats. They are claimed to have been brought here in this manner by her. I'm powerless in this situation.