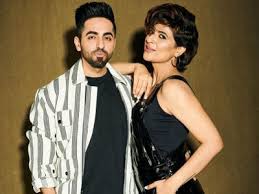 Aberration plays a pivotal role in taking society forward. Our exceptionalism, whether managing mundane chores or accepting greater roles in our work, creates a clear demarcation within our own individual spectrum. That is why rebellious outbursts are necessary, mind you must be occasional. Once generalised or frequented they soon end up becoming the same stereotype one determines to shatter. Ayushmaan Khurrana the latest toast of Tinseltown faces a similar threat. He is the current heartthrob of the nation with both resounding success and critical acclaim coming his way. His choices reveal that he is a risk-taker but his brand of content cinema has actually become a genre now in Bollywood, which has both pros and cons. It too can become a regular commercial trope to make audiences flock the theatres and loose its edgy sheen. But that looks far from now. He has time and again proven his mettle as an actor and also as a bankable star.
He shows his real persona in interviews(minus starry tantrum and frills). He is candid and walks the talk. He knows that small town and taboo subjects are his forte and it won't change anytime soon. When merging both can create wonders for him. He will stray from his usual outings now and then to do an Andhadhun. But as of now, he is happy in his zone. He has also inspired many to pursue acting seriously even while doing commercial potboilers, take Dream Girl for instance. He mercilessly digs his teeth into these roles and bites off a meaty chunk. He often plays off his supporting cast members and compliments them when necessary. Most of them are brilliant performers themselves.
He was a rank newcomer in the galaxy of stars with no backing but still managed to shine. His burning desire to carve a niche has stayed on even today. He always stood out. He began his acting career with a film on sperm donation much before half of India even knew of something like this. Interestingly, he had a "scripted by destiny" moment since the topic of the film was exactly similar to one of the tasks he had to perform as a contestant in Roadies. That brings us to his beginnings, by the way, he had had many of them.
He was an ex-Roadie, a former RJ and also a critic for a brief period. He was once a theatre actor in college where he met and later married his now-wife, Tahira Kashyap. She too is a force to reckon with by having to battle and later win against something as deadly as cancer. She chose not to remain silent and spoke out about her battle against cancer to create awareness. She is also a bonafide celebrity on her own merit preparing for her debut film as a director.
He dons a few other hats like he can sing melodiously which makes him a rare actor in Bollywood. He was a VJ with MTV for a few years and also has experience of hosting a few big-scale events. Adding to his repertoire he is also an in-demand poet who posts his poems regularly on social media platforms. He pens pieces in the hustle and bustle of his stardom, while I do that in anonymity and oblivion. He has the privilege of a break while a freelancer like me is always on one.