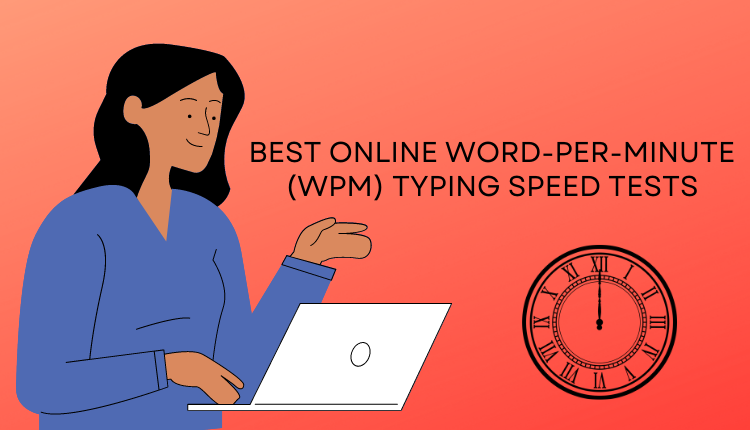 The average person can type 39 to 41 words per minute (WPM). I will discuss the best online Word-Per-Minute Typing Speed Tests in this post. However, a large number of professionals, such as developers, writers, bloggers, etc., spend a large portion of their time typing on the keyboard of their desktop computer or laptop. Most of them have careers that require them to write a lot of information. For those professionals, typing speed is an important factor in improving productivity.
Also, there are some Typing Games to Boost Your Typing Speed and several free online typing speed test tools available on the internet when you are applying for a job or attending an interview.
Free word-per-minute (WPM) tests and evaluations can help you figure out what you can do to improve your typing speed.
By taking these tests, you can determine how many words you type per minute. Many of them also test accuracy, but speed tests usually focus on how fast you can type, regardless of any errors. The list of free typing tests provided here is a good way to check both your speed and accuracy.
Using free tools word per minute test will vary from tool to tool, but they will all allow you to type sentences, phrases, or words over a set period. Among the most common tests are 1-minute tests, but also 3-minute and 5-minute WPM tests. It is best to try them all so that you can find one that inspires you to type as fast as possible for a specific period.
Words Per Minute (WPM) Typing Speed Test
What is a WPM typing test? There are several types of testing. During this typing test, the typing aptitudes are constantly communicated through words. In general, the more you practice typing and test your typing speed, the higher your WPM score will be. Web-based typing tests and typing games are often centered around WPM typing. It is a detriment to take the WPM typing test if you want to learn how to type fast. The WPM typing test does not provide any information about accuracy.
Best Online Typing Speed Test1)TypingTest
TypingTest's WPM Test is my favorite word-per-minute test because of a few different reasons. It's easy to use, and I believe that it provides a more accurate speed test than other websites.
With the typing speed test, you do not have to worry about manually starting the timer since the clock is started as soon as you press the first key on the keyboard. As you take the test, you can easily monitor your progress, how much time you have left, your typing speed, and the number of errors you make.
There are a variety of stories to choose from, including non-English ones, along with how much time should be allocated (1-5 minutes).
You can take this typing speed test and it will be very accurate since you will be writing actual paragraphs with punctuation instead of strings of words or simple sentences.
2)FastFingers' Words Per Minute Test
The FastFingers typing speed test is a little different because you are put through random words as part of your test. Because the words after it are not related to the one before them, this makes the test more difficult.
One of the best things about this is the Hindi typing test. Yes, you can test your Hindi typing with this tool. For this, you must first enable the Hindi language on your PC, which can be done by following.
You can see the clock count going down as you type your first letter in this typing speed test. There are a total of 200 words for you to type in this one-minute test, allowing you to improve your WPM.
The misspelled word is highlighted in red, but you can continue typing without going back to correct it.
After completing the WPM test, you will be able to view your words, keystrokes, correct words, and incorrect words per minute. During the last 24 hours, they will also tell you how fast you typed.
This site allows users to take an advanced, 1,000-word test, but they must create an account. Furthermore, in live competitions, you can race against other users for a more exciting experience.
3)TestMyTypingSpeed
TestMyTypingSpeed allows you to calculate your typing speed very easily. The typing speed test tool available on the Internet lets you know the number of words per minute you are typing. Types of words or characters are used to calculate a person's typing speed score.
For speed calculations, type the highlighted words in the white box and press space after each word input. The typing speed test tool is also available as a Chrome add-on for free typing tests. TestMyTypingSpeed is an online typing speed test tool that is simple yet efficient.
4)Key Hero
This free typing speed test tool Key Hero will help you become more productive and improve your typing skills. To improve your typing speed, the game tracks your typing performance and informs you when you aren't typing. Key Hero offers most of the features you need to master typing. It reduces finger movements while typing and corrects deficiencies to make typing faster.
You can choose the layout you prefer and start typing to increase the speed of your keystrokes. If you practice regularly and play interesting games, you can easily learn to type quickly.
5)The Typing Cat
Learn to touch-type here and work with typing cat to improve your typing speed. It is possible to gain more insight into your typing speed by focusing on key points and doing regular practice with the typing speed test tool available online. You can choose from QWERTY to Workman to use this online tool to its fullest potential.
For more information on typing, courses are ranging from basic to advanced. Additionally, this online typing tool offers a variety of courses that can help programmers become faster at typing. Users can use HTML 5, CSS 3 and ECMAScript 6 examples. Your typing skills will improve as you become more familiar with capitalization, punctuation, and line numbers.
FAQ
What's The Key To Faster Typing Skills?
Make sure you type as often as possible. Do a great deal of typing, type tests, and practice typing. Improve your typing results every moment, and test your speed regularly. Using our typing speed test will track all typing tests that you have already taken, so you will be able to see your progress after some time. After some use, you will be able to see the changes that have occurred in your typing speed. If you can do a 5-minute typing test each day, your typing rate will increase significantly!
What Can I Do To Improve My Typing Speed?
Relax your fingers, take a deep breath, and go slowly. While attempting the typing speed test, you should remain engaged and not get irritated. The best way to begin a free typing test online quickly is to type more. You will become faster at typing the more experience you add to your repertoire. Everything comes down to building muscle memory. Be sure you are strengthening the good habits instead of those that will leave your fingers damaged after a long typing session.
Why Does Typing Speed Matter?
The quicker you can type, the more likely you are to be able to speak with others. Using this program, you can save a lot of time on any type of work that requires typing. From the beginning, it will be two or three additional minutes you won't notice. In time, the minutes will turn into long periods of spare time that you can spend on various activities.
What Is Average Typing Speed?
Most expert typists type at a speed of 65 to 75 words per minute. Further developed positions require 80 to 95 (for the most part, the base for dispatch positions and other time-sensitive typing occupations). There is likewise some work for propelled typists that requires fast typing speeds of over 120 WPM.