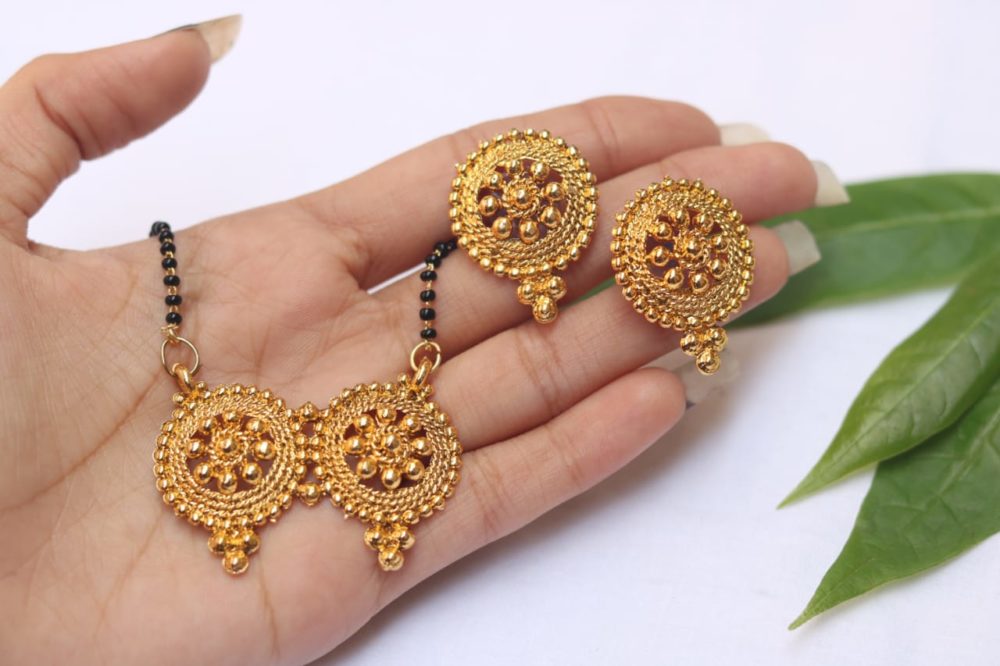 The beautiful pair of ethnic earrings can add finishing and glamour to any outfit be it western or ethnic attire. There are a variety of women earrings that suit different outfits and face shape. If you want to stand out of the crowd, you have to choose earrings that not only look gorgeous on your face but also match your outfit.
A lot of questions were raised on the versatility of ethnic earrings. The fact that they can be adorned with traditional outfits and not so much with your western wear. But now there are multiple ways to style ethnic earrings with western outfits too.
Few tips on how to style ethnic earrings with your outfits:
1. STUD EARRINGS
These are the type of women earrings that do not go beyond your ear lobes and they are embedded with a single stone or a simple design. It gives a classy and elegant look to your charming face. They work well with long and oval face, mostly when the face is narrow and forehead is wide.
You can wear them with every outfit, formal or semi-formal. Go for pearl studs or classic stones for an everyday look. You can also choose one design that goes with your dresses.
2. HOOP EARRINGS
These type of western earrings are made up of a variety of widths and circumference. They are circular in shape whether big or small. They are easy to carry because of their lightweight. They look best with heart-shaped, oval or diamond face and thus enhances your jawline.
You can pair heavy ethnic hoop earrings with salwar-kameez that gives elegant and Indian look to you. You can also pair them with a boat neck, off-shoulder or strapless necklines. Shop this type of ethnic earring online.
3. CHANDELIER EARRINGS
These earrings are made up of a combination of stud and drop earrings. They are simple, elegant and looks amazing on traditional outfits. They start from one small stud and becomes wider at the end, just like a shape of the chandelier.
They go well with any simple outfit or you can adorn them with sarees to make you look enchanting. You can also wear them with Anarkalis and A-line suits. If you are looking to flaunt them with your casuals, opt for contrasting coloured outfit to compliment it more. You can easily shop this earring online with better choices and fewer prices.
4. JHUMKAS
Jhumkas are stapled jewellery piece for every woman of India. Even the Bollywood beauties love to adorn them with their Indian ethnic wear. They complement every type of attire to oomph up your look. You will find multiple types of jhumkis such as embossed ones, silver ones and with layers of latkans to match almost every kind of attire.
They go along well with chikankari or silk Kurtis and also with vibrant colored sarees. You can also adorn oxidized jhumkas with your black Kurti to look Proper patola for your special occasions. They are must-have for every Indian woman.
5. UTTARIKSHIN EARRINGS
These type of ethnic earrings are an amalgamation of elegant Gulabi Meenakari with the boldness of gold coins. These earrings are made up of a combination of various styles and colours to give you a distinct look.
Wear Uttarikshini earrings with your all-black outfit as these earrings will stand out on their own.
6. FLORAL CHANDBALIS
These type of ethnic earrings is a wardrobe must-have. They come with various designs and patterns but floral ones sizzle your look.
Pair Floral Chandbalis with a long summer dress for a bohemian look, or with any other floral dress to create a day with a touch of elegant gold.
Which style did you love the most? Tell us in the comments below.