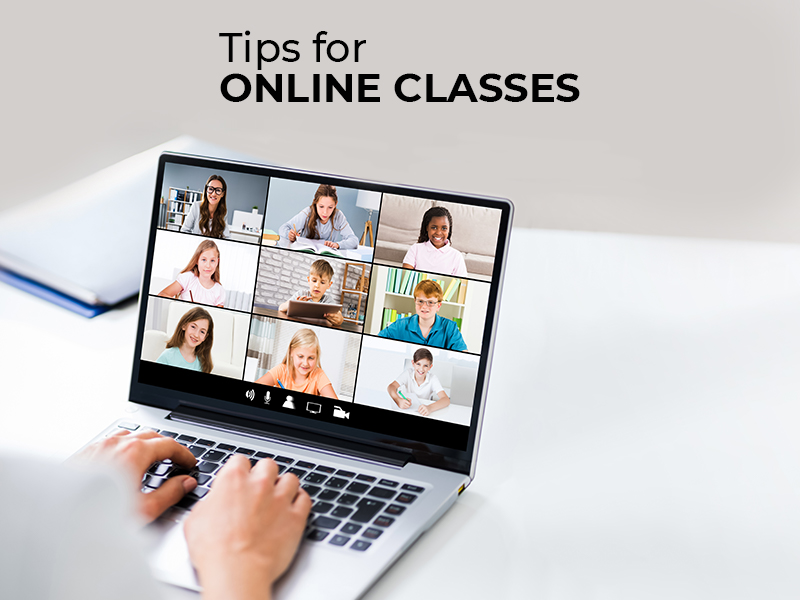 Since Covid-19 has come into play, our lives have been shaken to cores. And like all of us, school and college students are also trying to accept the ''new normal''. Students are no longer going to college because colleges and universities have shifted to online classes now.
Online learning does have its benefits like studying at your own pace, make your own schedule, save time and money etc. You can learn and get a degree sitting in any part of the world and also maintain your work-life balance.
However, many students find the shift to online classes a little surprising, so they've issues settling down with the virtual education experience. Online learning can be challenging if not planned your study well, so here are some online classes' tips for adapting to your upcoming lectures!
Create a Study Schedule
Online learning without a study schedule can often lead to tremendous procrastination. As there are no project and study meets like it used to happen in typical times, students can procrastinate and leave the work for the semester end, creating a great mess at exam time. Additionally, when students have trouble studying several subjects at the same time, it's essential to plan a study schedule and get through online study successfully.
Stay Organized
You're not going to attend the session at your college, but still, you require being proactive, self-aware and organized. Build a habit of logging in to your online classes early and regularly. Always manage to go through the course outline and check if you've any submission due or there's a pre-read. Keep a reminder to log on before time, don't forget to stick to your study schedule and keep track of in-class events!
Find Your Study Zone at Home
You'll require a space in your home where you have a good internet connection and a productive learning environment. You will study and attend classes from that space only, so make sure that you find it comfortable and yielding to work in, plus there are no distractions there. This online study tip is very crucial to follow because you cannot concentrate and be productive when studying resting on a couch!
Take Notes
Several students find it hard on taking notes regularly. It's natural to feel that there are great resources available online, and one can quickly study from them during exams, so there's no point in taking notes. However, that should not be quite so. Because no matter how much research you do online, the learning you'll receive online compared to offline won't be sufficient. Plus, taking notes helps you grasp concepts better, expands your class engagement and increases your retention.
Ask for Guidance if you're Falling Behind
It comes as no surprise that when you're not physically studying in college, it's a big task to ask subject doubts to your professor. But that shouldn't stop you; you must take more lead. Also, your professor will be the best person to teach you other than anyone. Nowadays, colleges pace to help students by getting their doubts solved by providing personalized attention to them. One such college in today's time is Marwadi University, which has expert PhD faculties that give individual guidance to each student, so their education doesn't get affected.
Notice When You can Learn the Best
Every person learns differently. You've to find out how and when do you learn helps you perceive and retain the largest. Some students are early birds who can study best in the morning, while some are night owls who can pull all-nighters working to understand and remember concepts. Also, notice your online learning pattern; many learners retain information best when they read, while some get the best understanding while listening, and some find visuals the most ideal.
Ditch the Distractions
As an online class learner, you've to learn how to keep away from distractions. Netflix, prime, social media or family members chatting with each other, you cannot get yourselves distracted from any of those. Distractions have a dramatic impact on your productivity and ability to focus, so make sure to switch off your phone and sit in your study space when you're studying or attending an online class.
Form a Virtual Study Group
At present, it is not possible to meet up with your classmates at the college library or coffee house. So, catching up and studying together goes on a toss. However, forming a virtual study group could be your closest workable choice. You can benefit by learning topics and solving your assignment queries with your friends in the video meetings. So, buckle down and ask your batch mates if they're interested in studying together virtually.
Form Connections with Your Batch mates
Stay in touch with your classmates through a study group or social media platforms. Share notes, discuss subjects, ask questions - this is one good way to stay connected with your batch mates and remain updated with the studies. Also, this way, you get to socialize in these lockdown times and who knows, you can end up becoming lifelong friends with some of your classmates!
Stay Motivated
Times are stressful, but we need to keep moving forward! Staying motivated is a tough one. Everyone's different, so for keeping things going smoothly, one needs to find their happy place to remain self-motivated. While studying longer you need to avoid losing motivation, so use the Pomodoro technique to learn. To stay motivated - stop overthinking, think positive, measure your progress, read self-help books and involve in activities that interests you.
Now that you've known all these tips for online classes, it's time to implement them in your daily life. Every student has become an online learner now, so help each other and get through it successfully and happily!
Don't let such transitions clip your wings!