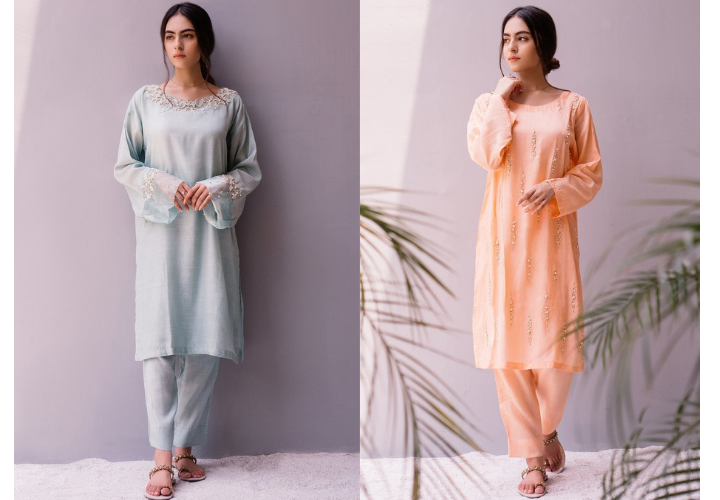 A sea of fairy-lights spreads under the dark starlit sky, the soft beat of the dholki echoes across as women passionately sing the tapas, the rich fragrance of roses and marigolds perfumes the air; and happiness flows in effortlessly into our surroundings. Amongst the many things that winter brings along with itself, the wedding season is without any doubt the most highly anticipated one.
Orient Textiles prides itself on being forward-thinking and innovative hence, we are the perfect choice to play dress-up with this wedding season! Let's take a look at our exclusive raw silk and jacquard pieces that will help you look the part within a budget!
Craft your own style with our Unstitched Zari Jacquard prints
Ink black looks pretty stunning on its own but, at Orient, we decided to give this minimalistic yet classic color an oomph by incorporating deep gold and silver into the palette. These two complementary shades stand out from their place in the zari jacquard shirt and dupatta's lining, which gives the outfit a luxurious feel. The glistening embroidery has been inspired by royal motifs which allow the outfit to stand out effortlessly.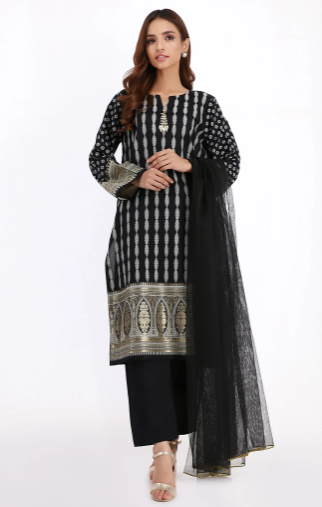 The main advantage of investing in unstitched prints is that you get to play creatively with how you wish to style the outfit! Our advice is to let the timeless shades and patterns do the talking here. Go for a practical neckline which will allow the glamorous chandelier to sparkle in all its regal glory. This unstitched three-piece is ideal for an evening dholki or formal dinner!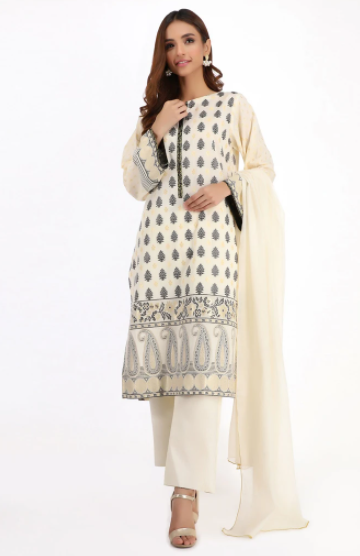 We can not help but obsess over this alluring unstitched three-piece! Our design team has absolutely outdone themselves with this intricately crafted and well thought out outfit. The subtle beige accent will incredibly stand out under the winter sunlight softly masked by the seasonal haze. Similar to the previous outfit, black plays a crucial role in making this outfit stand out in its own unique way. The floral embroidery lined against the zari jacquard shirt's bottom festively ties together the whole look.
Pair it with pearl drop earrings and soft waves to create an aesthetically pleasing aura.
Just when we thought that this collection could not get any better, this unstitched three-piece in white is honestly what dreams are made of. The neckline has been laced with a very subtle ice blue followed by gold Kiran.
Fun fact, it is priced at only PKR 4,590! What say, are you now convinced that Orient Textiles provides the most fashionable Pakistani clothing for women at the most affordable prices?
We suggest that you go for Y-neckline and broad sleeves as they will allow the hints of gold to reflect the traditional appeal of the outfit.
Look effortlessly chic with our ready to wear outfits
At Orient Textiles, we are consistently working to make fashionable ready to wear clothing for women suitable for a diverse variety of tastes. We are committed to helping you look your best self by channeling energy that is unique to you!
This ready to wear two-piece has a vibe of its own. The stunning soft blue exudes very calming energy that is not only visually appealing but is sure to help you center yourself as well. The box cut shirt's boat neckline has been adorned with crystal inspired floral embroidery; dotted with mini pearls.
The sleeves have been artfully laced with organza and embellishments similar to that of the neckline. Go for a softly styled romantic bun and pair it with pearl studs. Let your look be all about embracing your natural beauty hence, invest in a highlighter that will accentuate your already stunning features.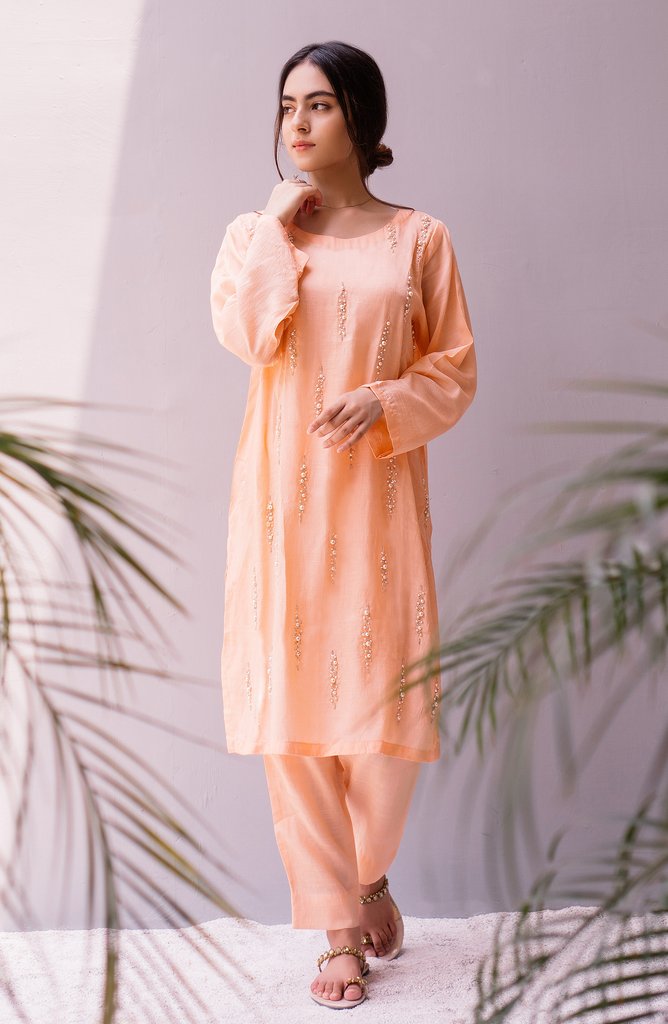 Orient Textiles remains true to its promise of delivering premium quality outfits at the most economical prices.
Let the fantastic raw silk spread like satin across your skin and leave you feeling at your best. The peach shading of the accent will allow you to easily blend into the mayun vibe. The pearl clusters skillfully placed across the shirt lift up the whole look beautifully.
If you're a bride-to-be, this two-piece is ideal for getting your henna applied in. It's comfortable and maintains the charming and wholesome glow of your aura!
TAKE A LOOK AT OUR PAYMENT METHODS
We utilize our best resources to ensure that you have a memorable shopping experience with us. Hence, we have multiple payment methods for you to explore whenever you decide to shop with us!
Quick and simple is the way to do it! Our "Cash on Delivery" facility is reliable and secure; however, this mode of payment has a convenience cost associated with it.
We also accept payments from Visa, MasterCard, PayPal, and 2CheckOut. Your data is completely secure with us! We process all our net banking transactions through a secure encrypted system that keeps all your confidential information 100% safe.